Memorial of Saint Irenaeus
Scripture:
Genesis 15:1-12, 17-18
Matthew 7:15-20
Reflection: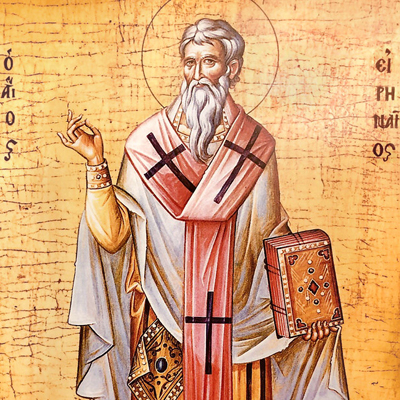 "Beware of false prophets, who come to you in sheep's clothing, but underneath are ravenous wolves."
Saint Irenaeus, Bishop and Martyr, whose feast we celebrate today was no stranger to false prophets. As bishop of Lyons, France in the late second century, Irenaeus fought against the Gnostics of the time who could be viewed as "false prophets". The Gnostics claimed they had access to secret knowledge from Jesus that he imparted to only a few disciples. Irenaeus was successful in exposing their claims as untrue, which helped confused Christians to disbelieve the heresy of Gnosticism.
It seems we are surrounded in our times by many 'false prophets' who claim to have the only truth or the only way to believe or understand things. Oftentimes it is hard to know what truth is or who to believe! Our faith calls us to be aware of those who bear bad fruit. Sometimes the naysayers and false prophets can make us overwhelmed and despairing, but it is good to remember that by their fruits we will know them.
Recently our parish was privileged to resettle a refugee family of eight coming from the Congo. We have settled several families over the past few years, and it is always a tremendously rewarding experience for our team. Our workers became those that bear good fruit. They worked hard and shared their wealth of love and goodness in preparing for this family's arrival. It was an overwhelming experience to see the generosity of our parish family and friends as adults and children, young and old, came together to share faith and love on behalf of others in need. It was truly the working of the Spirit and the living out of gospel values.
It is a gift to be a part of this tree of faith that continues to produce good fruit! Thanks to our loving God and to the faithfulness of Saint Irenaeus, Bishop and Martyr.
Theresa Secord is a retired Pastoral Associate at St. Agnes Parish, Louisville, Kentucky.