The Most Sacred Heart of Jesus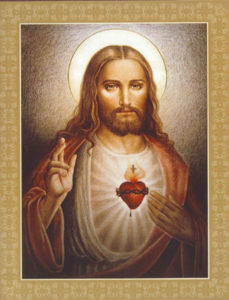 Scripture:
Ezekiel 34:11-16
Romans 5:5b-11
Luke 15:3-7
Reflection:
There is so much to rejoice over in the readings today! I am feeling very blessed to be a child of God – even if He does compare us to sheep! The language is so rich and comforting – God Himself will pasture us. He will give us rest. He will seek out the lost and bring back the strays. He will bind up the injured, heal the sick, and lead us to good pastures! I imagine myself laying in a beautiful green meadow with Jesus nearby keeping an eye on me. . . and my heart is content.
In the second reading He reminds us that He paid the ultimate price for us by laying down His life for us even while we were sinners. We don't deserve His love or salvation, but He gives it to us anyway. He is not only a good shepherd, he is the BEST shepherd! I imagine arriving at heaven's gate one day to meet Him face to face. . . and my heart is grateful.
In the Gospel acclamation, He reminds us that He knows us and that we can know Him. Again I am grateful because God wants us to know Him and walk with Him and live and move and have our being in Him. He is a personal God, not one who is far off and unreachable.
Finally in the Gospel He tells us again that He will leave the 99 to go find one who is lost. Thank you Lord for loving us so much! We lift up all those today who are lost and pray that if we can help them find their way back to Your love, You will show us. Thank you Lord! We love you!
Janice Carleton and her husband Jim live in Portland, OR and partner with Passionist Fr. Cedric Pisegna in Fr. Cedric Ministries. She is the mother of 4 grown children and grandmother of 6. Janice also leads women's retreats and recently published her second book: God IS with Us. Visit Janice's website at http://www.janicecarleton.com/ or email her at [email protected]