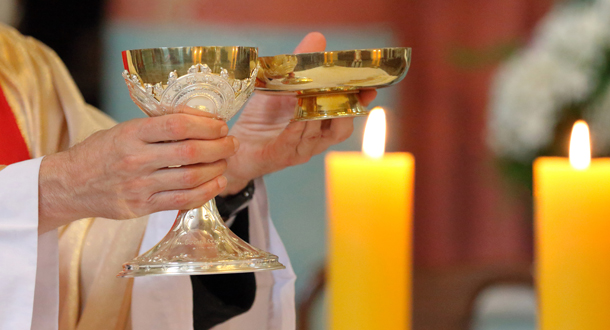 Solemnity of the Body and Blood of Christ
Scripture:
Exodus 24:3-8
Hebrews 9:11-15
Mark 14:12-16, 22-26
Reflection:
I don't know about you, but I'm really glad that we don't have to do animal sacrifices at church and then be sprinkled with blood for our sins to be forgiven! Can you imagine the mess and stench? Thank You Jesus for shedding Your own blood for us. Not only did He pay the price because He was the perfect sin offering, the spotless Lamb, but He also gave us His Body and Blood to be our spiritual food.
How blessed are we? We are the only church that believes in the True Presence and we are even able to receive Jesus in the Eucharist every day. As always, there is a danger when we do something often – it can become rote, and lose its meaning. It's very important to be aware of the importance of what we are doing if we go to communion every day, or anytime we go. It's easy to miss how great a mystery happens every day on altars around the world.
I read recently in a reflection by St. Faustina that many people receive Jesus as a "dead thing" when they go to communion. Either by not believing in the True Presence, by being distracted and just going out of habit, or by not being recollected. Apparently there are many Catholics who don't believe in or understand transubstantiation.
I googled: "How many Catholics believe in the True Presence?" This is what I found: "About half of U.S. Catholics know the official teaching, and half do not. Of the half who know it, about 90 percent believe it. So, that translates to about 46 percent of all survey respondents." In the second article from the National Catholic Register (2015) I read: "About 65% of practicing Catholics said the Eucharist is 'the true presence of Jesus Christ,' but a similar number of non-practicing Catholics said it is 'a symbol.'"
Maybe it's time to take a good look at how we receive Jesus in the Eucharist. Let's ask Him to help us be more aware if necessary so that we can open ourselves up to the amazing grace available to us each time we go to communion. Let's cherish this great gift Jesus offers to us each day and never take it for granted.
One more thing – if you have never read about the Eucharistic Miracles, I invite you to do so. You will be amazed.

Janice Carleton and her husband Jim live in Bainbridge Island, Washington,  and partner with Passionist Fr. Cedric Pisegna in Fr. Cedric Ministries. She is the mother of 4 grown children and grandmother of 6. Janice also leads women's retreats and recently published her second book: God IS with Us. Visit Janice's website at http://www.janicecarleton.com/ or email her at [email protected].