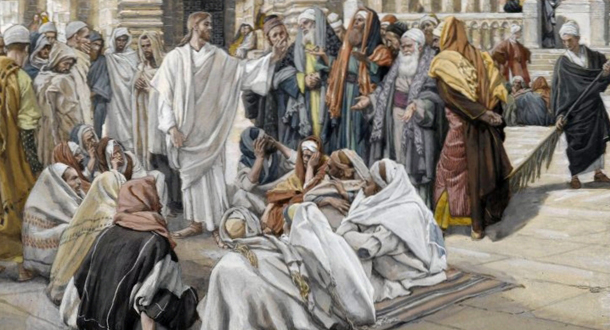 Scripture:
Sirach 51:12cd-20
Mark 11:27-33
Reflection:
Two realities emerge from the gospel today. One is the fact that Jesus lived each day in the face of criticism, opposition, and risk. We take for granted that his life was mobile and missionary, but we often do not see that this same itinerant preaching life was one surrounded by constant ridicule, challenge and at times insult.
Many encounters, from which we often glean real treasures of teaching and revelation, are in fact moments for Jesus when he is 'on trial'. Times like that of today's passage from Mark are all too typical of the daily life of Jesus. We hear a challenge about the origins of his authority, designed no doubt to elicit a response that might be used against him, but his answer not only reveals the true origin of his authority, but silences his critics.
Jesus parallels his own situation with that of John – and the chief priests, scribes and elders find themselves trapped in their own question and its implications. Jesus can be seen as having authority conferred by God and proclaiming a message that is not only comforting, but well received by the people.
The second learning for us who are privileged to enter this encounter through the scriptural witness, is to see that Jesus' authority is not only founded on God, but that it also has its own provenance. That is, Jesus himself, his courageous witness, his vision, and his teaching are all compelling and attract people drawing them in to relationship and response. There is an authority born by the very fact that his teaching is accepted and welcomed by all who hunger for new life and good news. The truth has its own power and Jesus spoke the truth.
Ironically the setting of today's gospel is the Temple precinct, in many ways the centre of authority, wealth and power in his society. Yet here speaking and teaching is the real centre of relationship to God and the revelation of the truth about God.
His message is our truth too, let us treasure it.
Fr. Denis Travers, C.P., is a member of Holy Spirit Province, Australia.