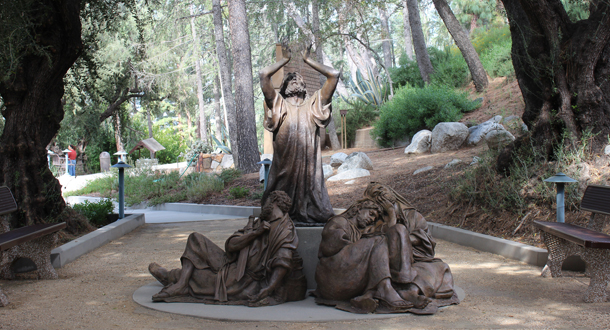 Scripture:
Lamentations 2:2, 10-14, 18-19
Matthew 8:5-17
Reflection:
When it seems like our prayers aren't being answered, it is good to go over this check-off list.
1) Do we pray with humility?  "God resists the proud but gives grace to the humble" (James 4:6).
2) Do we forgive all others before we pray?  "First, be reconciled with your brother, and then come an offer your gift" (Matthew 5:24).
3) Do we pray first of all for the coming of God's kingdom?  "Seek first the kingdom of God and his righteousness, and all these things shall be yours as well" (Matthew 6:33).
4) Do we pray with love?  "If I speak (pray) with the tongues of men and of angels, but do not have love, I have become a noisy gong or a clanging cymbal" (1 Corinthians 13:8).
5) Have we given thanks for gifts already received?  "Was no one found to return and give thanks to God except this foreigner" (Luke 17:18).
A rabbi was once asked this challenging question.  "How come God was so visible to people in times past, but nowadays no one ever seems to see him?"  The rabbi responded, "Nowadays there is no one who bows low enough."  
In today's gospel we see the centurion bowing low enough and praying with humility, "Lord, I am not worthy to have you come under my roof" (Matthew 8:8).  He realized his littleness and recognized the authority, the greatness of Jesus.  Apparently this depth of humility and faith was rare in those days because the gospel says that Jesus "marveled."
If we reflect on the splendor of creation and the beauty of human life, we bow down in reverence before the Creator.  If we gaze upon the crucifix, we bow down in wonder before this expression of God's love.  If we consider the size of the universe and that we are just one in seven billion people on this little planet Earth, we are filled with awe that God would have compassion and pay any attention to little us.
So with confidence in Jesus' power, love and compassion, we humbly present our petitions to him.  And Jesus "marveles."

Fr. Alan Phillip, C.P. is a member of the Passionist Community at Mater Dolorosa Retreat Center, Sierra Madre, California.   http://www.alanphillipcp.com/