Scripture:
Exodus 34:4-6,8-9
2 Corinthians 13:11-13
John 3:16-18
Reflection:
Solemnity of the Most Holy Trinity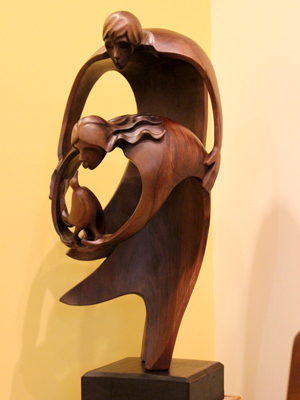 Today we celebrate a major belief of our Catholic Faith: our belief in three Persons in one God…Father, Son, and Holy Spirit. We believe in the Most Holy Trinity…a "mystery" of divine relationship, drawing us into the special, life-giving relationship that is shared with us in the Person of Jesus.
Each of today's Scripture readings add divine brushstrokes to the portrait of our belief in the Most Holy Trinity.
Our first reading, from Exodus 34, shares the experience of Moses going up Mount Sinai to encounter "…the Lord, the Lord, a merciful and gracious God, slow to anger and rich in kindness and fidelity…" A true Father / Parent, caring for their growing children.
The Gospel selection is a classic, John 3:16-18…the ever-so-popular statement of belief in Jesus. "God so loved the world that he gave his only Son, so that everyone who believes in him might not perish but might have eternal life…" God loves us! Jesus is our Salvation!
The New Testament selection from Paul's 2nd letter to the Corinthians presents Paul as the "cheerleader", encouraging us all to live as people of faith: mending our ways, encouraging one another, living in peace, greeting one another with a holy kiss. Paul concludes with a blessing that is truly Trinitarian: "The grace of the Lord Jesus Christ and the love of God and the fellowship of the Holy Spirit be with all of you." We are called to live the Life of the Holy Trinity!
Indeed, we celebrate a Mystery. It wasn't until the Council of Nicea in 325 that this teaching of the Church was formulated. It may take us time to comprehend the fullness of this dimension of our faith, but the teaching is clear: in God there are three Persons, equal and distinct; the Father shares life with the Son, and they are bound together by an everlasting love or dynamic power that we call the Holy Spirit. The Trinity / God is relationship, "rejoicing" in the sharing of life and growth and warmth and intimacy…for you and I and all of creation!
As Easter People, as Pentecost People, let us praise God who shares the fullness of Divine Life with us in the Most Holy Trinity. May we fruitfully reflect on our living and sharing that Divine Life, with the encouragement that St. Paul shared with the Corinthians. Full of the Trinitarian Life of the Father, Son, and Spirit, may we be 21st Century women and men of healing, encouragement, peace, and true love. God so loves the world!
Fr. John Schork, C.P. serves as the Province Vocation Director and also as Local Superior of the Passionist Community of Holy Name in Houston, Texas.