Scripture: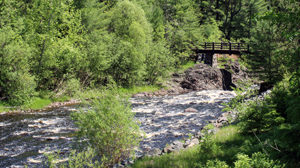 Reflection:
Opening and Using the Gifts of the Spirit
Our words may not be sufficient, but the spirit will give us words; he will make known to us all that Jesus has taught us, and will enable us to do the things that Jesus tells us are even greater than what he has done. The Spirit will be companion, advocate; source of life and joy.
The Beatitudes of Matthew teach us to live every day as if we possess the fulfillment of the kingdom of heaven. We can live comforted, gentle when daily life calls us to be hard, merciful and with a vision of God, satisfied and happy. But still those things that take away our living of the 'blessings' of the Beatitudes are also at work among us. But we can draw upon Jesus victory and the fullness of the Kingdom for our strength to try and live the Kingdom now, and to try to make the Kingdom present as Jesus did. As we hear this familiar gospel of the Beatitudes proclaimed today following the Pentecost celebration, we can clearly connect the Spirit who is with us always, as our  helper and guide to draw the strength of the Kingdom into daily life.
The Old Testament reading from the First Book of Kings introduces one of the most important figures of the Old Testament: the prophet Elijah, and with him some great stories! He will uphold the worship of the God of Israel against the worship of Baal; as a one-man army he takes on the wicked Jezebel, the wife of Ahab, who introduces this worship. Elijah, as a prophet is called to listen to God's word. But he will also be taught how to do that. He is a victorious warrior but he also gives up and asks to die, a request God dismisses when he reminds Elijah that he did not do all that he did just by his own talent! 'Go back to work, Elijah, and stop complaining (even though an army is chasing you) you work for me'. And Elijah is a man of prayer, the dialogue type between God and himself, one that speaks of injustice, the poor, failure, endurance over the long haul, intimacy and surrender. God's voice comes to us in all of these situations of live also, we can ask the Holy Spirit to manifest the gifts we are given so we can open and use them as we need them in these situations of daily life.

Fr. William Murphy, CP is the pastor of Immaculate Conception parish in Jamaica, New York.