Memorial of the Blessed Virgin Mary, Mother of the Church
Scripture:
Reflection: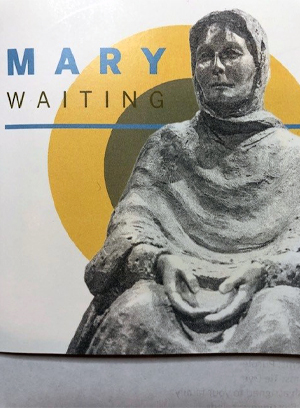 In St. John the Evangelist Co-Cathedral in Rochester, Minnesota, there is a side chapel where an original life-size sculpture of an elderly Mary is depicted sitting patiently with her palms open on her lap. Around the sculpture are glass photos, framed in wood and accented by small, clear votive candles, of portions of Michelangelo's Pieta.
I work in a visit to this quiet, sacred space each time I go for medical care at the Mayo Clinic across the street.
Staring at the serene Madonna, portrayed in her later years, I sense the reality of a woman of God who has endured unimaginable suffering, witnessing her son's choice to face down the powers of evil, only to seem defeated.
As a mother I imagine her inner debates, wondering if there wasn't some way for her boy to by-pass the crucifixion, to compromise with evil and to live a long, peaceful life getting married and having grandchildren for her.
Why not just let things be, return to Nazareth to tend to her in her old age and let her be close to him and his family.
Did he really have to make such a public spectacle of himself? Did it really have to come to this?
The tragic result of his decision was the limp, dead body of her 33 year-old baby boy crushing her lap and her heart.
I thank the people who designed this chapel to be so accessible to the world- renown clinic where tens of thousands come each year seeking healing from every human disease imaginable. I am sure many patients, their families and loved ones pray here as they face the unknown in fear and trembling.
I sit and stare at the serene, patient mother with a full, wrinkled face of an old woman, her hands open to her fate, her son's fate and our fates, I realized she experienced all the worry and distress we all feel in moments of crises. And I bet, in her overwhelming grief, Mary must have doubted just as we do. But this sculpture depicts no doubt, only acceptance. The pictures of the Pieta around her showno doubt, only grief.
At the crucifixion she did not know what would come next. But she must have, at her core, had enough trust in God to know that whatever the future might hold, she would be cared for.
In time, she was not disappointed. With the forthcoming resurrection and Pentecost, her son was glorified and the church was born, a church she is mothering. Her time of patient endurance and acceptance was the necessary foundation period prior to her becoming the first and preeminent of all humans to fully be united to God, body and soul.
This is the woman we all model. This is the woman we call the Mother of our church. She was taken down to life's most painful pits. She endured. She kept the faith. She walked through the shadows of the most cruel death possible.
During these difficult days of war, disease, environmental destruction, gun violence, racism, divisions, lies and calumny, we can all become confused, angry, vindictive and destructive.
It is time to plea with our mother for the Spirit's wisdom to discern when and how to respond to evil in our world. And to ask the Spirit, who guided her in her darkest moments, to give us the patience and serenity she witnessed for us.
Jim Wayne is a board member of the Passionist Solidarity Network (PSN), and author of The Unfinished Man. He lives in Louisville, Kentucky.