The Most Holy Body and Blood of Christ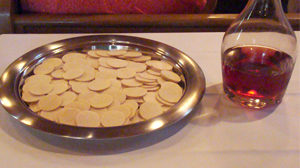 Scripture:
Exodus 24:3-8
Hebrews 9:11-15
Mark 14:12-16, 22-26
Reflection:
"Here beneath these signs are hidden
Priceless things to sense forbidden;
Signs, not things are all we see:"
(Sequence in today's liturgy)
I, like probably many of you, made my first holy communion when I was seven years old—the age of reason we were told. That was a very special day. My mother and father took Dave, my twin brother and I to a restaurant, to "eat out". We didn't do things like that in the 50's, at least not my family. Afterwards we stopped to visit one of my many aunts and uncles at their home where we got to go for a ride in my older cousin Nancy's new Ford. Yes, that was a very special day.
Sixty-two years later and I still "receive" communion regularly and I'm still trying to "reason" that out. Actually today, I think of communion more as a mystery. Receiving communion awakens in me, my connection to God, to Christ, to you. It's a mystery because as the above selection from today's liturgy suggests, I see this communion as broken.
I walk the streets of Chicago where I see Bentley automobiles driven by chauffeurs carrying the "successful" to wherever they want to go. On those same streets I meet people who have no place to go or call "home" whose hands are out asking for a dime (well maybe it's a dollar today). I see mothers pushing newborns in strollers as well as caretakers pushing the aged and the infirmed in wheelchairs. I see the thrilling blossoms of spring after a long winter's night and the destruction of a tornado leveling a local town.
More than see, I recognize my oneness with all, with all people, with all the earth. I see "Corpus Christi" (body of Christ) body beautiful. Thank you God.
Dan O'Donnell is a Passionist Partner and a longtime friend of the Passionists.  He lives in Chicago.