Scripture: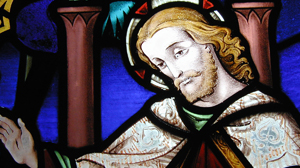 Tobit 6:10-11; 7:1bcde, 9-17; 8:4-9a
Mark 12:28-34
Reflection:
'Are we there yet?' is one of the lines often used by children on a journey. As many parents will understand only too well, the context is often one of travelling together in the family car and the children are usually voicing their tiredness, or impatience for or anticipation of 'journey's end'.
But for Jesus to say to the scribe 'you are not far from the Kingdom of God' is something entirely different in meaning and something far richer and deeper.
The Kingdom or 'the Reign of God' is not a state, a place or a plan. It is not something that one could see merely as a destination. Nor is there a 'map' of how to get there. Indeed Jesus never gave a concrete description or definition of what it was like to be within the Kingdom.
Rather Jesus used a series of stories, parables and encounters to illustrate the experience of being held within, surprised by, or carried along by Gods powerful, loving and creative presence in our world. Perhaps it is simplest to say that the Kingdom or Reign of God – which is dynamically present, boundless and all embracing – is manifested and made visible when we live according to God's dream, when we choose according to what God has already foreseen as good for us and when we love in a way that imitates God's totally selfless love for us.
As our gospel emphasises for us today, the Kingdom is indicated or made more obvious when one aligns his or her life with the wide ranging dimensions of God's reign amongst us.
Again while Jesus gave no precise definition, today's encounter does narrow down the field to that of tri-dimensional relationship. One's relationship to God; to others, and to self are the three dimensions highlighted. Thus two great streams of Hebrew thought and teaching about love, and the source often of argument, are now blended by Jesus (and acknowledged by the scribe) as one supreme command that acknowledges God as the One from whom we originate and to whom we belong, and further calls us to love God with all one's heart, understanding and strength, and to love your neighbour as yourself. We might note too that these dimensions – heart, mind and strength – sum up all the facets of human effort (as imagined in Jesus' time) and thus serve to remind us that we are to give our 'all' to our relating to God and others.
This gospel encounter serves to illustrate for us very clearly the vision that Jesus lived by and taught. He names love of God, neighbours and self as the primary command by which one should live. And it is a teaching which reflects his own values, attitudes and way of life and may well be seen by us as the 'way' or path for us to follow now and always so that we might enter into the life found within God's reign.

Fr. Denis Travers, C.P., is a member of Holy Spirit Province, Australia.  He currently serves on the General Council and is stationed in Rome.