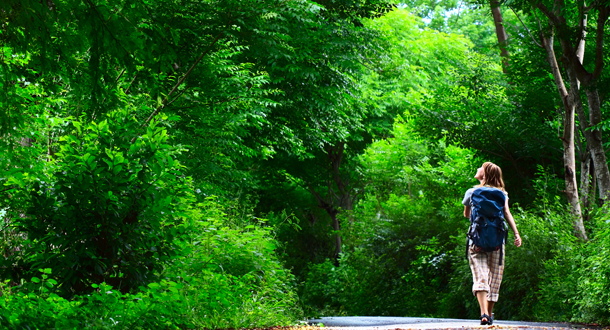 Scripture:
1 Kings 18:41-46
Matthew 5:20-26
Reflection:
Limitless Boundaries – Our Journey Into Ordinary Time
Did you know that when we are lost, we walk in circles? Imagine being in the middle of a great forest. We have walked a few hours from our camp, disoriented we begin to search.…and around and around we would go. This has been validated in my experience not once but twice, in Central Park in NY, (of all places!).
We find ourselves in the jungle of ordinary time. The Risen One has left this earth sending his shaky companions back to the city to await being clothed in power. With Pentecost, like their Jewish brothers and sisters who return to the fields to begin the next harvest, the disciples filled with the Holy Spirit, leave the upper room to begin a new harvest also. Jesus had told them it was ready and abundant. Their preaching on the temple steps reveal thousands who have been waiting for this Spirit. Having finished our Pentecost celebration, we join them to add new pages to the Acts.
Beginning our reading of Matthew's gospel this week we hear the Good News of Jesus, the Messiah, whose first teaching is on the Kingdom of God. We ask, 'where is the Kingdom of God in the midst of grief, poverty, the insanity of war and guns turned upon children, insecurity and suffering'? Christ's love gives a victory that overcomes sin and death. We do not walk in circles full of fear, but are blessed because signs of the Kingdom give us have hope. That victory even replaces fear with joy.
When the first reading at Mass is from the Old Testament it will be about the prophets.
As we return to ordinary time we meet first the most powerful of them all, Elijah. He stood victorious over four hundred and fifty prophets of Baal. Elijah's victory shows the people that the God of Israel is the one, true God. Elijah is on the run as the evil Queen, Jezebel wants him dead. Today he summons the King, Ahab, too see the power of God as he calls down the heavy rain that ends a long drought that had plagued Samaria. When Ahab reaches his home he announces to Queen Jezebel that Elijah is in the neighborhood. She sends the army to find and kill him. What follows tomorrow is one of the most beautiful stories of the Old Testament. Elijah has never known failure before. Now, for the first time he is lost and going in circles. He wants to give up. But God will not abandon his prophet. He tells him, 'it is a work day, go back to work'.
Now that Pentecost is over we have to go back to work, the harvest is ready. We might feel like Adam and Eve as a painting portrays them being ushered out of the garden by an angel. Eve, closes her eyes tightly and leans against Adam who has his hand over his eyes. They are blind as they leave the garden. When they open their eyes what do they see? A jungle, something like a neighbor's untidy backyard, something simply unappealing and uninviting? There are no paths, they are lost. Ordinary time does not offer a specific prayer for mass each morning, only one is given for each Sunday. The prayer this tenth week of our ordinary time is wonderful when we feel lost. We don't have to walk in circles. 'Words do not measure the boundaries of your love for us reborn in Jesus. We trust you will take us beyond the limits this world imposes so we may be free to love.'
Fr. William Murphy, CP is a member of Immaculate Conception Community in Jamaica, New York.