Second Sunday of Lent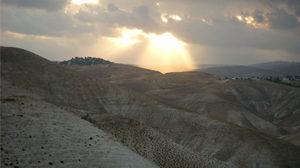 Scripture:
Genesis 22:1-2, 9a, 10-13, 15-18
Romans 8:31b-34
Mark 9:2-10
Reflection:
The Scriptures for this Second Sunday of Lent are exceptionally beautiful. In the first reading we hear the foundational story of Abraham's readiness to sacrifice his only beloved son Isaac to prove his obedience to God's commands. The killing of his son is stopped at the last moment and this test of Abraham's faith became an important marker for Israel that saw Abraham as the exemplary father of God's chosen people and for Christians who saw in the sacrifice of Isaac a harbinger of the sacrifice of Jesus, God's only and beloved Son.
The second reading is from one of Paul's most ardent passages in chapter 8 of the Letter to the Romans. "If God is for us, who can be against us?" This leads into one of the most lyrical and hope-filled statements of Paul at the end of chapter 8: "For I am convinced that neither death, nor life, nor angels, nor principalities, nor present things, nor future things, nor power, nor height, nor depth, nor any other creature will be able to separate us from the love of God in Christ Jesus our Lord."
But it is the gospel selection—Mark's account of the Transfiguration of Jesus—that most defines the tone of this Lenten Sunday. In this unique scene, Mark presents us with a luminous vision of Jesus—seen now by his trusted disciples Peter, James and John as he truly is. The dazzling white light that shines from Jesus on the mountaintop reveals the transcendent, divine character of the Son of God. The scene becomes a vivid biblical icon—the high mountain and the cloud that surrounds it recall God's thunderous appearance on Mt. Sinai; the figures of Moses, the great leader and lawgiver, and Elijah, the first and greatest of prophets, bring all of the Old Testament and God's care for Israel into view, and the voice from heaven—God's voice—identifies Jesus as "my beloved Son." No wonder Peter and his companions are confused and overwhelmed.
But the point of this scene comes with God's command concerning his beloved Son: "listen to him." The transfiguration story occurs in Mark's Gospel as Jesus begins his fateful journey to Jerusalem and the cross. All during this journey, Jesus, the one who gives his life in ransom for the many, instructs his disciples that they, too, must follow him and be willing to forego being absorbed in their own needs and concerns and reach out in loving service to others. This is the point of our Lenten journey, too. However one chooses to express it, the heart of the Christian message is one of generous love and compassion. This is the gospel message that Pope Francis has been reminding us of in his words and actions. As a church we are not to be turned in on ourselves but to reach out in a mission of loving service to the world.
The gospel for this Sunday reminds us that this fundamental gospel value is given to us by one who speaks with divine authority and one whose own life and death embody compassionate love.
Fr. Donald Senior, C.P. is President Emeritus and Professor of New Testament at Catholic Theological Union. He lives at the Passionist residence in the Hyde Park neighborhood of Chicago.