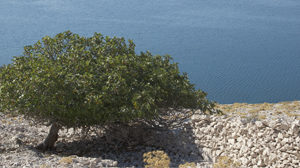 Scripture:
Jeremiah 7:23-28
Luke 11:14-23
Reflection:
In the words of the prophet Jeremiah, this day, the Lord is encouraging us to listen, pay heed, because we are, actually, sent, today, among so many who don't "walk in all the ways that I command you." In a real sense paying attention to God's voice today is to recognize the "muteness" that goes on around us, and in the face of it, act, speak. That is, to take any available opportunity, today, to respond in some communicative, personal way to the love of God as is revealed in our midst.
Karl Rahner wrote that "Lent" is necessary because God is apparently "far from us." That distance means "that our heart is despondent over unanswered prayers, and is tempted to look on "God" only as one of those grand a ultimately unbelieved-in words under cover of which men (sic) hide their despair, because this despair no longer has the power to accept even itself as real." And, for Rahner, the way of Lent is to first "stand up and face this God-distance of a choked-up heart. What God is really far away from you in this emptiness of the heart? Not the true and living God; for he is precisely the intangible God, the nameless God; and that is why he can really be the God of your measureless heart. Distant from you is only a God who does not exist; a tangible God, a God of man's small thoughts and his cheap, timid feelings, a God of earthly security…" Second, he suggests: "notice that God is there.  Know with faith that he is with you. Perceive that for a long time now he has been waiting for you in the deepest dungeon of your blocked-up heart, and that for a long time he has been quietly listening to you, even though you, after all the busy noise that we call our life, do not even let him get a word in edgewise, and his words to the man-you-were-until now seem only deadly silence." But all of this would not have occurred if it were not for that night in the Garden of Gethsemane. "He lay on his face; death crept into his living heart into the heart of the world …The earth wickedly and greedily gulped down the drops of blood of his mortal terror…In this death-silence the small voice of the Son floated somewhere, the only sign from God that was still left. Each moment it seemed to be stifled. But a great miracle took place; the voice remained. The Son spoke to the awful God with his tiny voice that was like a dead man's, 'Father' – he spoke to his own abandonment-'Thy will be done.' Through him and in him and with him our soul is laid in the hands of this God, this Father, whose former decree of death has now become love. Our Lenten sacrifices to love deliver us from our muteness to respond to the burdens and bitterness of life. The fasting is in this: standing firm, drinking the cup that contains our poverty and want and God-distance. We face all with a response and not muteness. Lord, give me your grace to do this today.
Fr. Alex Steinmiller, C.P. is president of Holy Family Cristo Rey Catholic High School, Birmingham, Alabama.