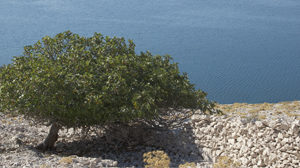 Scripture:
Reflection:
Today's reading from the Gospel of Mark is situated in the Jerusalem time of Jesus ministry leading up to his crucifixion. In chapter 11, Jesus arrives to sounds of Hosanna and following his temple cleansing, begins to teach the people.  In this cleansing he sets the foundational precepts of God's view of temple worship and as we know that caused a stir.
In this text Jesus is being questioned by the scribes.  The passage in the bible contains a partial sentence not in the Lectionary: "when he (the scribe) came forward and heard them disputing and saw how well he (Jesus) had answered them, asked him….." (12:28), so we recognize this scribe as one who is open to hearing Jesus' teaching. In fact he paves the way for one of the greatest proclamations in all of scripture. Echoing Deuteronomy 6:4, Shema Israel, "Hear, O Israel! The Lord our God, is Lord alone!…."  followed by "love of neighbor…" found in Leviticus 19:18. Notice Jesus adds a fourth component to this text.  He commands us to love with all our heart, soul, mind and strength. The original text mentions, heart, soul and strength.
I have heard it said that the longest distance in humanity may be from the mind to the heart. True conversion happens when our mind and heart connect as one—Metanoia.  This change of mind St. Paul teaches is to believe that through baptism we are God's temple –Christ lives in us (1 Cor 3:16). What strikes me in this context is the second command: "….love your neighbor as yourself."
Arguably the hardest challenge is love of self.  Is Jesus really commanding me to love you as much as I love myself?  Then how well do I love myself? The prophet Hosea reminds us that, sinners stumble on the paths of the Lord (14:10) but the important thing to recognize is that sinners are on the path!  So as I/we stumble along fixed on having the mind of Christ, may we come to a deeper awareness of the importance of love of self so as to love God.
Jean Bowler is a retreatant at Mater Dolorosa Passionist Retreat Center in Sierra Madre, and a member of the Office of Mission Effectiveness Board of Holy Cross Province