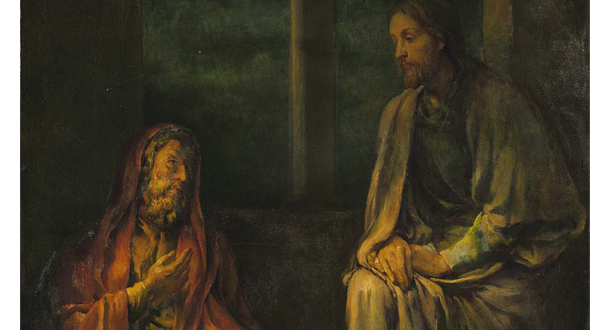 Scripture:
2 Chronicles 36:14-16, 19-23
Ephesians 2:4-10
John 3:14-21
Reflection:
As we continue through this season of Lent which calls us to repentance, all of our Scripture readings for this Sunday remind us of the unconditional love and overwhelming mercy of God. In our first reading from 2 Chronicles (36:14-16, 19-23), the author writes about God sending prophets to the people: "Early and often did the Lord, the God of their fathers, send his messengers to them, for he had compassion on his people and his dwelling place." But then the author describes how the people rejected God's messengers, and so came God's punishment with the conquest by Babylon and the exile. But when the Persians conquer the Babylonians, the people of Israel are allowed to return from exile and build a new temple.
In our second reading from Ephesians (2:4-10), St. Paul writes, "God, who is rich in mercy, because of the great love he had for us, even when we were dead in our transgressions, brought us to life with Christ … raised us up with him, and seated us with him in the heavens in Christ Jesus, that in the ages to come he might show the immeasurable riches of his grace in his kindness to us in Christ Jesus. For by grace you have been saved through faith, and this is not from you; it is the gift of God; it is not from works, so no one may boast."
And in our Gospel reading (John 3:14-21), Jesus says to Nicodemus: "Just as Moses lifted up the serpent in the desert, so must the Son of Man be lifted up, so that everyone who believes in him may have eternal life." And then Jesus goes on to say some very familiar words: "For God so loved the world that he gave his only Son, so that everyone who believes in him might not perish, but might have eternal life. For God did not send his Son into the world to condemn the world, but that the world might be saved through him."
So, in these readings we see the forgiveness and the mercy and the love of God. And it is all gift! It is not dependent on what we do, thanks be to God! It is solely dependent on God's choice to lavish grace and love upon us, "even when we were dead in our transgressions." Can we believe God loves us that much? God doesn't just desire eternal life for us, God desires us to have abundant life here and now (John 10:10). When Moses lifted up the serpent in the desert, those who looked upon the serpent would not die from the poison of saraph serpents. When we look at God's love on the Cross of Christ, we need not succumb to the poisons of despair or hate or fear or apathy!
This "immeasurable" love of God in Jesus Christ begs for a response. And our response to God's love is to love as Jesus does. If the Son of God did not come into the world to condemn the world, are we arrogant enough to presume that God put us in the world to do it? No, as it says in our second reading, we are "created in Christ Jesus for the good works God has prepared in advance, that we should live in them." In our Gospel reading, Jesus says, "And this is the verdict, that the light came into the world, but people preferred darkness to light … But whoever lives the truth comes to the light, so that his works may be clearly seen as done in God." We are to live in light, not darkness. We are to add to the light, not the darkness.
And just as Moses lifted up the serpent, and Jesus was lifted up on the Cross to heal us and give us life, we are to lift others up, not crucifying them, but loving them!
If we believe how much God loves us, we are to choose light over darkness; love over hate and fear; and life over death. How can people believe in Jesus, if we do otherwise with each other? May we live in the good works God created us to do.
Fr. Phil Paxton, C.P., is the local superior of the Passionist Community in Birmingham, Alabama.