Scripture: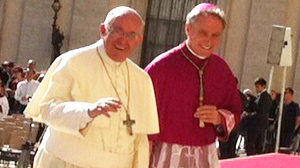 Reflection:
We have reached the Fifth week of Lent and are also well into the Holy Year of Mercy by proclaimed by Pope Francis. In the gospel of John the evangelist now moves to reveal Jesus totally. He goes far beyond the identification of Jesus as the Prophet who is to come. Beyond the title of Jesus as the Christ, the long awaited anointed one who is to bring in the reign of God. Far beyond the Son of David shouted by the crowds as Jesus enters Jerusalem.  We now enter the realm of mystery.  "I do not belong to this world…I belong to what is above."  We must acknowledge and believe that Jesus is the I AM, the divine presence of God revealed to Moses in the burning bush. But wonder of wonders we come to realize this when he is lifted up on the tree of the cross and dies for us.  But in three days he is lifted up once again by his Father and like Thomas we recognize him as "my Lord and my God."
In his official prayer for the Jubilee Year of Mercy, Pope Francis prays that we will hear the words Jesus spoke to the Samaritan woman: "If only you knew the gift of God!" Yes Lord I pray with all those who celebrate the Year of Mercy: "Send your Spirit and consecrate every one of us with its anointing so that the Jubilee of Mercy may be a year of grace from the Lord, and your Church, with renewed enthusiasm, may bring good news to the poor, proclaim liberty to captives and the oppressed, and restore sight to the blind."
Fr. Michael Hoolahan, C.P. is on the staff of Mater Dolorosa Passionist Retreat Center, Sierra Madre, California.