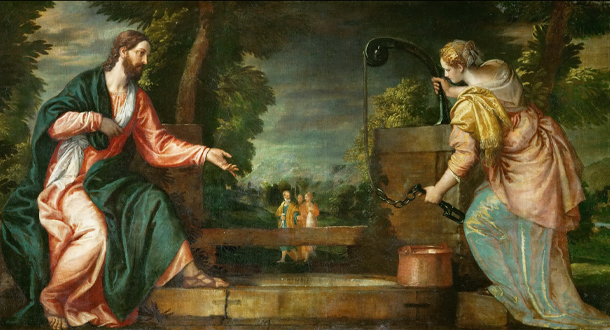 Scripture:
Exodus 17:3-7
Romans 5:1-2, 5-8
John 4:5-42
Reflection:
I think that our Gospel reading for Sunday (John 4:5-42), in which we hear the encounter between Jesus and a Samaritan woman at Jacob's Well, is one in which what the principals involved do is as important, or perhaps even more important, than what they say.
Why do I say this? Well, look at what happens. First of all, the very fact that Jesus is talking to a Samaritan woman is worthy of note: Men were not supposed to be talking to women they didn't know. Jews and Samaritans had little use for each other, and even hated each other. The next thing to note, which you may have heard before, is that this woman is getting water at noon, when most people got their water in the morning. After seeing what happens in the encounter, it's not hard to imagine that the woman simply didn't want to deal with the dirty looks and the hushed murmurs that probably accompanied her everywhere she went.
So Jesus, to the woman's amazement, asks her for some water. And then they get into a discussion in which Jesus speaks about "living water," and as is so often the case, He is misunderstood. Jesus then says to the woman, "Go call your husband and come back." The woman replies, "I do not have a husband." And then Jesus is bluntly honest with the woman: "You are right in saying 'I do not have a husband.' For you have had five husbands, and the one you have now is not your husband. What you have said is true."
What happens after this is what I'm talking about. The woman's response is nothing short of remarkable! Even though Jesus is blunt, He must have also shown compassion or something because her response is not what we would expect. She isn't offended! She doesn't get angry, or even defensive. She doesn't say something like, "How dare you speak to me that way!" Instead, she recognizes that Jesus is some kind of prophet, and eventually Jesus reveals to her that he is the Messiah.
But wait, the amazing stuff doesn't end there! This woman, who seems to be the object of gossip and self-righteous condemnation in this Samaritan town, goes back to these same people, and tells them that she thinks she may have just met the Messiah! Imagine going back to people, at least some of whom have been looking down their noses at you, and witnessing to them!
And now, here's some more. These people actually listen to her and decide to come to see and hear Jesus for themselves! How often does a person's past hinder us from seeing their conversion? So, again, there must have been something about her response to Jesus that convinced them to meet Jesus themselves.
So what does this say to us? I think there are at least two things. One is that we do not have to be prisoners of our past. Yes, Jesus confronts the woman about her life, but does not condemn her, and she is freed from her past, to the point of talking to at least some of the people who were judging her. For a woman who tried so hard to avoid those people, she is not afraid to talk to them now. If we let Jesus in, we, too, can be freed form our past. That doesn't mean we deny what has happened or our part in it. It means we don't have to be weighed down by it anymore.
The second thing is that our response to who Jesus is for us is our witness to Him. People may not react to us as this town reacted to the woman, but how we live in response to the love of God in Jesus Christ is the most effective testimony we can give.
We need not be afraid of the truth. Rather, we can be healed by it. And our response to the healing Jesus gives us can help us lead others to healing as well.

Fr. Phil Paxton, C.P., is the local superior of the Passionist Community in Birmingham, Alabama.