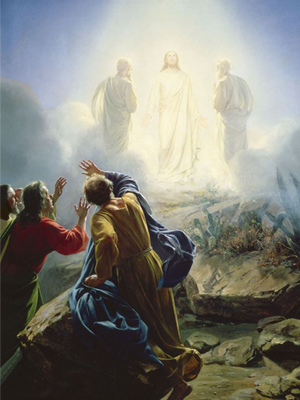 Scripture:
Genesis 15:5-12, 17-18
Philippians 3:17-4:1
Luke 9:28b-36
Reflection:
The account of Jesus' transfiguration is one of the most mesmerizing gospel stories as well as one of the most abundantly hopeful. But it begins in a very ordinary way. Jesus calls Peter, James, and John up a mountain to pray. There is no suggestion that anything unforgettable is about to happen, no hint that this will be anything other than a typical day. But then something truly overwhelming begins to unfold: while praying, Jesus' "face changed in appearance and his clothing became dazzling white." Moreover, Moses and Elijah appear with Jesus, conversing with him. No wonder that the three apostles who had fallen asleep (as they will again the night before Jesus dies) are suddenly "fully awake." Peter is so spellbound by the glory he sees in Jesus that he does not want to budge from that mountain. Maybe he wants to linger there because at that moment he sees clearly who Jesus truly is: the fullest revelation of the stunningly beautiful love, goodness, and holiness of God.
Perhaps Jesus took Peter, James, and John up the mountain that day not to draw attention to him, but to teach them that his glory can be our glory. The greatest blessing God can give us is to enable each of us to be transfigured in the love, goodness, and holiness of God. But that is possible only if we take to heart the final words spoken in this marvelous gospel story: "This is my chosen Son; listen to him." And it is possible, Paul assures us in today's second reading from Philippians, only if we refuse to allow our minds to be "occupied with earthly things." We must remember that "our citizenship is in heaven." There, Paul assures us, Christ will "change our lowly body to conform with his glorified body." Surely that is a hope we should never abandon, a promise we should never forsake.

Paul J. Wadell is Professor of Theology & Religious Studies at St. Norbert College in De Pere, Wisconsin, and a member of the extended Passionist family.