Scripture: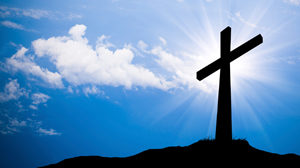 Isaiah 49:8-15
John 5:17-30
Reflection:
"Come out of the darkness, for the lord comforts his people and shows mercy."
That cry of the prophet – an affirmation of God's loving mercy, becomes enfleshed and visible in the life and mission of Jesus.
For as our gospel text reminds us in Jesus'' own words, the mission of God – to love us and bring us to life – is one with the mission of Jesus in our world. Where we see Jesus' at work we see the Father, where we hear his soothing and comforting worlds, we hear the Father and where we experience his loving, kindness and forgiveness we experience the gift God's mercy itself.
Jesus is the living embodiment of the saving love of God. That love – which underpins and defines our relationship to God – is a never ending story of intimate, personal concern which uplifts us and brings us to life. Jesus lives out and reveals this love – a love which can be likened to a maternal love as imaged in the cry of God (through the Prophet), "Can a mother forget her infant, be without tenderness for the child of her womb? Yet even should she forget, I will never forget you".
Our gospel text today is at pains to remind us of the unity of Jesus with the Father and of his living our of the Father's will. "Amen, amen" he says to us, "the Son cannot do anything on his own, but only what he sees the Father doing; for what he does, the Son will do also"
Jesus further spells out the dimensions of this love – the Father is constantly loving us, working to raise 'the dead' to new life, not judging us, but calling us to trust and believe in our salvation. God is for us a Father who is constantly wanting for us life to the full.
And all these actions and desires of God for us are entrusted to Jesus who does not seek to do his own will, but the will of the Father who sent him.
The life and witness of Jesus can at times stand in stark contrast to so many other messages we receive in life, sometimes even daily. The world might suggest to us, even promise us, that we can make our lives full and self fulfilling by our own actions, but Christian wisdom speaks to us in a different voice. Our view of life is founded on the vision of human life as life created in the image of God and brought to perfection in the person of Jesus. Thus we see and know that the essence of life is relational loving and that we live for the Other and find ourselves in loving and making sacrifices for another.
Indeed Jesus teaches us by his own life that the nature of love and of service to others involves sacrifice. For Jesus to be faithful to God's dreams involved sacrifice and ultimately the loss of his own life.
As we continue our Lenten journey and reflect more deeply on the meaning of our lives in Christ, let us adhere to this standard and ask for the courage and grace to be of service to others in imitation of Jesus' own service and witness.
Fr. Denis Travers, C.P., is a member of Holy Spirit Province, Australia. He currently serves on the General Council and is stationed in Rome.