Scripture: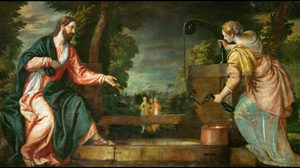 Exodus 17:3-7
Romans 5:1-2, 5-8
John 4:5-42
Reflection:
"But the hour is coming, and is now here, when true worshipers will worship the Father in Spirit and truth; and indeed, the Father seeks such people to worship him. God is Spirit, and those who worship him must worship in Spirit and truth."
John 4:23
The Scriptures for today's Mass speak eloquently to me, giving me hope for the future, even as we search for meaning and truth in today's world.
The image of water in both the first and Gospel readings is easy for us to identify with, given the drought, the many deadly floods that have recently taken place and the questionable quality of our drinking water in our world and in our country. We long for good drinking water. We do not want to be concerned about our next glass of water we drink or the safety of our homes because of dangerous water hazards. So, when Jesus speaks about making available to us life-giving water, a living water that will satisfy our thirst once and for all, then we, like the Samaritan woman with whom he is talking, desire that water, so we many never thirst again. Jesus clearly identifies himself as the Source of Living Water. What a beautiful truth!
Truth is very important for John the Evangelist. He first references Truth in the Prologue, when he writes: "And the Word became Flesh and made his dwelling among us, and we saw his glory, the glory of the Father' Only Son, full of grace and truth." John, 1:14 His last reference to truth is made in Chapter 19:35. In all he has 28 references to Truth, including the one that is often quoted, "What is Truth?" John, 18:38, asked by Pilate, the Roman Ruler. So, when John says in today's Gospel that people must worship God in Spirit and Truth, he is speaking not only to the Samaritan woman, but also to us: to us today, to us in this moment in time in our history.
This is not the first time that our Church has asked us to speak our Truth. From the Acts of the Apostles to our present day, we followers of Jesus are called to worship the God who is Spirit and Truth. We are to confess, in truth, our Trinity: God, Creator of the Visible and Invisible, Jesus, the Son of God and Son of Mary, and the Holy Spirit, the Spirit of Truth and Love. This is our Faith.
It is difficult to speak our Truth, at times. As children, telling untruths comes easy. With maturity and experience, we begin to recognize "What is Truth." So, when Jesus caught the Woman at the Well in a lie, he confronted her. When she took responsibility for her untruth, she took another step toward accepting the Living Water that Jesus promised her at the beginning of their conversation and her conversion.
The Gospel concludes by offering us another beautiful and powerful image. Two peoples who had once been bitter enemies, so much so that they never welcomed one another and sometimes even refused them entry into their cities, became friends and shared fellowship with one another. The Samaritans opened their hearts and doors to Jesus and his disciples.
In another place in John's Gospel, he says: "And the Truth will set you free." It certainly set Paul the Apostle free. Our second reading fills us with hope and inspiration and peace. We have a God who liberates, because we have a God of Love and Life. We have the Son of God who willingly accepts death so that we may have Everlasting Life, the same life that Jesus offered the Woman at the Well.
Let us have the courage, then, to Worship the God of Spirit and Truth!

Fr. Clemente Barrón, C.P. is a member of Christ the King Community in Citrus Heights, California.