Scripture: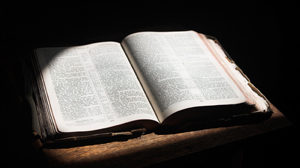 Deuteronomy 4:1, 5-9
Matthew 5:17-19
Reflection:
There are parallels between the Jewish Scriptural accounts of Moses' leading his people to the brink of their occupation of the land God gives them—and the religiously motivated journey of the "Pilgrim/Separatists" who left England, stayed some years in Holland, and then went on to occupy the land they identified with religious freedom.
They both have charismatic leadership; they are fleeing persecution or a challenge to their worship of God; they have long, sacrificial journeys to endure before they arrive at their "land."
Both the Jews and the Pilgrim Separatists have deep religious motivations. Moses reminds his people in today's first reading:
Therefore, I teach you the statutes and decrees
as the LORD, my God, has commanded me,
that you may observe them in the land you are entering to occupy.
Moses makes it clear that they are accountable to God, and that their lives shall constitute the basis of a "great nation."
The Pilgrim Separatists went to a land they would colonize in order to implement their "Purification" of the Roman and Anglican Christian faith their forebears had practiced but which they considered insufficiently reformed.
Later colonizing parties would introduce several of the religious strains that came from northern Europe (England, France, Spain), which would diminish the initial influence of the Puritans. These are the religious traditions that gave cover to the societies being planted in the New World.  By the time of Independence, the language of the Scriptures and the language of fidelity to God, Creator and Lawgiver, is an integral part of the first texts of the newly independent nation.
Yesterday, Super Tuesday of the Primary Balloting for the Presidency of this country, a large part of our nation had to choose among the candidates who ask our consent to govern as Chief Executive of the United States.
The question of "America's greatness" was sloganized. Insult was rained on candidates by rivals and their opposition. Wealth was touted as the proof of virtue; exclusion was preached as national security.
Today's reading from Deuteronomy reminds us, as it reminded the Jewish immigrants under Moses, and the Pilgrim immigrants under William Bradford, that we are accountable to God, whose Word we reflect on daily. Those of us who hold to the Christian faith in these United States must absorb the admonition of today's first reading and consider it each day as we move toward the November elections:
Observe them [statutes and decrees] carefully,
for thus will you give evidence
of your wisdom and intelligence to the nations,
who will hear of all these statutes and say,
'This great nation is truly a wise and intelligent people.'

Fr. Arthur Carrillo, C.P.  is the director of the Missions for Holy Cross Province.  He lives in Chicago, Illinois.