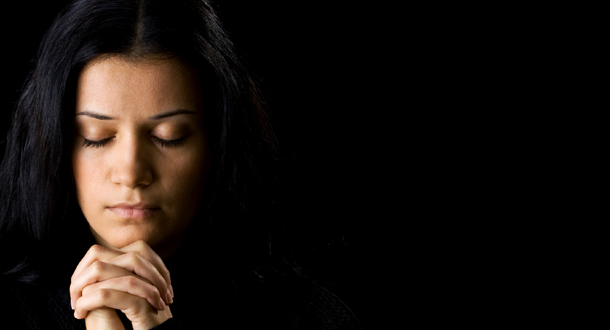 Scripture:
Ester C:12, 14-16, 23-25
Matthew 7:7-12
Reflection:
Prayer, fasting, and almsgiving are the three traditional Lenten practices. And today's readings are about the practice of prayer, specifically, prayers of petition (for ourselves) and intercession (for others).
In our first reading from Esther, we find the young queen begging God for her own life and interceding for the life of her people. The Jews are a minority group in Babylonia, and at the mercy of a capricious king. And in our Gospel reading for today, we have Jesus' assurance that "your heavenly Father gives good things to those who ask him." Mt 7:11
Esther lived in a community of exiled Jews in Babylonia, far from her homeland of Israel. She was an orphan, raised by her older cousin Mordechai, who was prominent in the Jewish community. When Esther was in her late teens, King Xerxes held a mandatory beauty contest to find a new queen, and Esther, who was very beautiful, was chosen. When she was moved into the palace to live in the king's harem, Mordechai warned her not to tell anyone that she was Jewish.
A few years later, Mordechai refused to bow to the prime Minister, a man named Haman. To get revenge, Haman ordered all the Jews to be killed. When Mordechai heard of this, he went to Esther and asked her to intercede for the Jews with the king. Esther risked her life by revealing her identity as a Jew and going to the king to plead with him to have mercy on her people. Before she did this however, she fasted and prayed for three days.
Today's first reading gives us a snapshot of Esther's prayer: " Save us from the hand of our enemies; turn our mourning into gladness, and our sorrows into wholeness."
Esther's prayers are answered. Not only are she and the other Jews in Babylon saved from death, but her cousin Mordechai becomes the new Prime Minister.
We may pray for the deliverance of a group of people from genocide, as Esther did. Or our prayer may be for ourselves: we may pray for the strength and insight to navigate a health problem or a difficult relationship. Sometimes the prayers are answered in dramatic ways, through the web of relationships in a community, as happened with Esther. Sometimes the gift we receive is the quiet and sure awareness that we are never alone.
This Lent, as we pray for ourselves and others, let us pray with confidence. Today's responsorial psalm from Psalm 138 sums it up: "Lord, on the day I called for help, you answered me."
Patty Gillis is a retired Pastoral Minister. She served on the Board of Directors at St. Paul of the Cross Passionist Retreat and Conference Center in Detroit. She is currently a member of the Laudato Si Vision Fulfillment Team and the Passionist Solidarity Network.