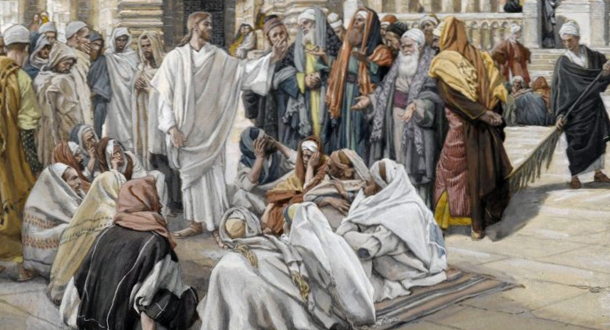 Scripture:
Deuteronomy 4:1, 5-9
Matthew 5:17-19
Reflection:
In our Gospel reading for today, Jesus says to the crowds, "Do not think I have come to abolish the law or the prophets. I have come not to abolish but fulfill." If we look at the conflicts between Jesus and the Pharisees and the scribes which we read in the Gospels, we may think Jesus is contradicting Himself. The Pharisees and the scribes often criticize Jesus and the apostles for not faithfully observing this ritual or that, or for doing things forbidden on the sabbath.
In response, Jesus points out to them that they way they use their knowledge of the law goes against what the law was really meant to do. What was the purpose of the law? We get an idea from our first reading from Deuteronomy. In that reading, Moses exhorts the people to observe the statutes and decrees that God has given them "carefully, for thus you will give evidence of your wisdom and intelligence to the nations…" Moses also says: "For what great nation is there that has gods so close to it as the Lord, our God, is to us whenever we call upon him? Or what great nation has statutes and decrees that are as just as this whole law which I am setting before you today?"
The purpose of the law was to lead the people to respond to the love God had for them, and to do justice to each other. Jesus was the fulfillment of that purpose! In the Son of God becoming one of us in Jesus, God became as close to us as possible, and went beyond the law to save us and show us the way to love and do justice to each other.
When we get tempted to use the rules and rituals of the Church in the same way that the Pharisees and the scribes used the law – as a cudgel against others, we need to remember what Jesus did for us, and look for ways to love one another as He loves us.
Fr. Phil Paxton, C.P., is the local superior of the Passionist Community in Birmingham, Alabama.