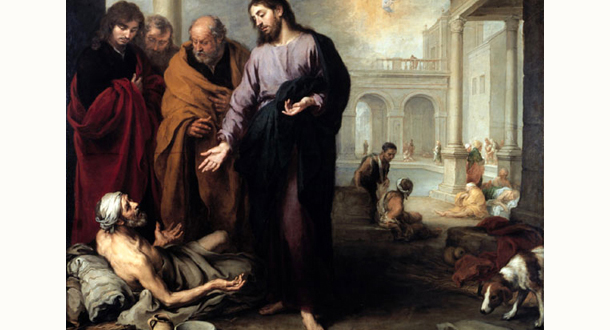 Scripture:
Ezekiel 47:1-9, 12
John 5:1-16
Reflection:
Get Up and Go!
Lent is the season for growing closer to God and healing our spiritual problems.  In today's Gospel, we see Jesus healing a very hesitant and depressed man.   He did not ask Jesus to be healed, nor he did not bother to notice who it was that rehabilitated him.  Why are we so reluctant to accept the healing word of Jesus?
I think it probably is for two reasons. The first reason is we don't think we need healing.  We have a strong feeling that we don't need to seek the doctor or to have to change for the better.   Jesus asks him "do you want to be healed"?   The sick man seemed very indifferent about it.  He most likely gave up 38 years previously. He proceeds to say it is other people's fault he is not healed.   "I have no man to put me into the pool when the water is stirred up, but while I am coming, another steps down before me."  We must have the humility to take the responsibility of being far from a person like Christ!
The second reason we fail to make an effort to grow is a form of discouragement and depression.   The man in the story is clearly depressed! He obviously had no notion Who was speaking to him.  Jesus said to the Samaritan woman:" If you knew the gift of God, and who it is who says to you, 'Give Me a drink,' you would have asked Him, and He would have given you living water."  At this point, Jesus seems upset with him.  He speaks that wonderful word in SS to him: "Get up".    In the Greek New Testament, the word is egeírō.  It is used 157 times!   Is means ideas like wake up, get on your feet, rise.  In SS Jesus says: "for I say to you that from these stones God is able to get up (egeírō rise)  children to Abraham". Mt 3:9  If the Lord can make stones come alive, may I have a chance!
What power is in this word on the lips of Jesus!  He used this word to the paralytic in Lk 5:24. "I say to you, get up, and pick up your stretcher and go home."  After the theophany of the Transfiguration in Mt 17:7: "Jesus came to them and touched them and said, "Get up, and do not be afraid." Mt 17:7  "He said to the man with the withered hand, "Get up and come forward!" And he got up and came forward." Lk 6:8  What a powerful medicine for depression is "Get up" by the Divine Physician!

Fr. Bob Weiss, C.P. preaches Parish Missions and is a member of the Passionist Community in Louisville, Kentucky.