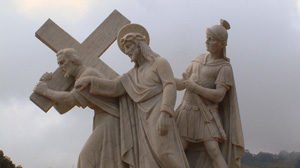 Scripture:
Reflection:
As we anticipate Holy Week that begins on Sunday, the Passionists of Holy Cross Province offer each day on this website a reflection on the Way of the Cross.  Each day, another Station along the Way.  Today's Fifth Station is "Simon of Cyrene helps Jesus carry the cross."
There really is not much known about Simon either before or after this encounter other than he came from Cyrene in what is now Libya in northern Africa.  He just happens to be present at a moment when Jesus is in need.  We don't hear that he felt a deep compassion to help.  He was conscripted, ordered by the soldiers to help carry the Cross of Jesus.
It is not hard to find examples of Simon of Cyrene all around us.  Stories of others we know very little about or are little known.  But they are there helping others carry their crosses.  Perhaps they would not have chosen the role of caregiver or guardian now bestowed on them.  But they take up the task because they are there, and the need is clear.
As my mother's husband of 22 years, and also my godfather, grew weaker in body more than mind at age 95, there was more to do for mom to keep him moving and engaged.  I said to her recently, "I don't suppose this was in the playbook when you and dad were married in 1948, or when you married John."  There was no playbook, she said.  You just do what needs doing
We take up our own crosses when we help others carry the crosses of those burdened by life, infirmity, loss, sadness, or tragedy.  Like Simon of Cyrene, the opportunity will likely find us first.  We'll just be there at the right time to help.  Maybe today's Station will help us appreciate all those who are and have been "Simon" to others – and to us.
Robert Hotz is a consultant with American City Bureau, Inc. and is the Director of The Passion of Christ: The Love That Compels Campaign for Holy Cross Province.