Holy Saturday
Scripture:
Genesis 1:1-2:2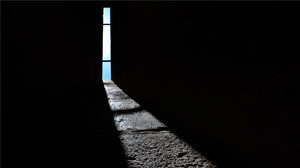 Genesis 22:1-18
Exodus 14:15-15:1
Isaiah 55:1-11
Baruch 3:9-15, 32-4:4
Ezekiel 36:16-17a, 18-28
Romans 6:3-11
Mark 16:1-7
Reflection:
Today is one of the strangest days in the Church calendar. It is Holy Saturday. It's so quiet. There are no Masses today.  The churches are stripped of decorations and the tabernacle is empty.  I have vivid memories of statues shrouded in black or purple. There can be no funerals or weddings.  Today is an uneasy time.
Perhaps we can imagine how the disciples felt.  The events of the past two days – sharing together the Passover meal in the upper room, Jesus' arrest in Gethsemane, the farce of a trial and sentence of death, the cruel via dolorosa and crucifixion on Golgotha – have left the disciples bewildered and confused. What does all this mean?  What are we to do? Where do we go?  They find themselves in this strange in-between time.
As we celebrate the Triduum, these three Holy Days, we know that at sundown today the Easter fire will be lit and we'll sing again the great Alleluia. Unlike the disciples, we know what's on the other side of Good Friday.  But that does not mean we are not faced with those very same questions.
Today is a perfect time to ask ourselves some fundamental questions.  While we know that Jesus rises again, we don't know perfectly yet what difference that makes in our lives.  We need to keep asking, "What are we to do?" and "Where are we to go?"  We should be uneasy today.  We should wonder what changes our Lenten journey compels us to consider. Are we any more ready to see Jesus when he appears to us in the world and the people that surround us?  Are we any more ready to love and forgive? Are we any more ready to invite Him into our homes, around our tables, and into our hearts?

Robert Hotz is a consultant with American City Bureau, Inc. and is the Director of The Passion of Christ: The Love That Compels Campaign for Holy Cross Province.