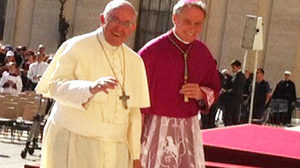 Scripture:
Jeremiah 20:10-13
John 10:31-42
Reflection:
The prophet is never accepted in his own home…
Oftentimes, when reading a morning homily of Pope Francis, or one of his apostolic exhortations or speeches, I feel as if I am hearing Jesus preach or teach. I cannot help but be challenged and inspired by his prophetic words and provocative lifestyle.
Contemporary biographers of Jorge Bergoglio agree that The Great Reformer (the title of Austen Ivereigh's recent biography of Pope Francis) has been highly influenced by theologian and Vatican II architect, Yves Conger, O.P.  Congar found that true reform was always rooted in pastoral concern for ordinary faithful people. It was oriented to, and shaped by, what Pope Francis later calls the "existential periphery," not the center. False reform, according to Congar, is driven by ideas in self-enclosed groups distant from the ordinary faithful. With false reform, the Church becomes a battleground of competing elite projects, and what follows is disunity and the loss of identity.
Maybe that is why reading Ivereigh's biography of the pope was like reading the lives of the saints. True reform sends us to the margins and binds us together in community. That is today's Gospel.
If I do not perform my Father's works, do not believe me;
but if I perform them, even if you do not believe me,
believe the works,
so that you may realize and understand
that the Father is in me and I am in the Father."
It is much easier to entrench ourselves in our personal ideologies. It is much more difficult to work for God's dream of communion.
So today I think I'll meditate on a couple of photographs: Pope Francis riding the bus with priests and bishops returning from their recent Lenten retreat, or washing and kissing the foot of a young inmate at the Holy Thursday liturgy last year.
Fr. Jack Conley, C.P. is the director of the Office of Mission Effectiveness.  He is a member of the Passionist formation community at Catholic Theological Union in Chicago.