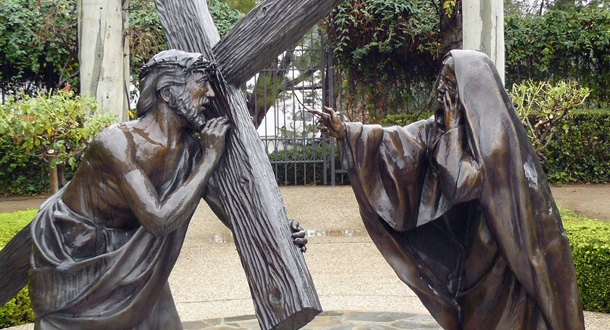 Scripture:
Reflection:
Isaiah paints a hopeful picture of how special Jerusalem will be for all of God's followers. In John's Gospel, we are also given the hope that comes with being a faithful follower of Jesus Christ! During this season of Lent, we are called to journey to Jerusalem with Jesus. This is what the Paschal Mystery is all about! This is what it means to be a follower of Christ. Jesus suffered and died for us so that we might enjoy new life with him.
What does the Paschal mystery call you and me to this Lenten season!? Jesus came to show us how to love, to teach us this great self-sacrificing love and paid the ultimate price for it. Because of his great love for us, God allowed this sacrifice to take place. Lent calls us to step back and take inventory of our life and how we are being called to live, love, and die with Christ. We are a spoiled and blessed people! We are used to getting what we want, when we want it and living the way we want, sometimes to the detriment of those we love and care about.
The Verse before the Gospel today also gives us hope if we are faithful:
Seek good and not evil so that you may live,
And the LORD will be with you.
During this Lenten season, I am trying to be more committed to FASTING from indifference and rash judgments to PRAYING for those whose beliefs and actions may be counter to mine, and ALMSGIVING/SERVICE as I focus on becoming more aware of the needs of others including family members, friends and strangers. Living the Paschal Mystery calls me to fast from speaking too much and listening too little. Paschal Mystery calls me to pray for wisdom to know how to heal that broken relationship and the courage to plant seeds of friendship.
Paschal Mystery most importantly calls all of us to walk with Jesus along the Via Dolorosa, to embrace his suffering, emotional and physical pain, humiliation and disappointment! Jesus sought to do good, to eradicate evil, and teach us how to love so that we may enjoy everlasting life in the new Jerusalem. We are called to do no less! Let us continue our Lenten journey accepting all that the paschal mystery entails.
Theresa Secord recently retired as a Pastoral Associate at St. Agnes Parish, Louisville, Kentucky.