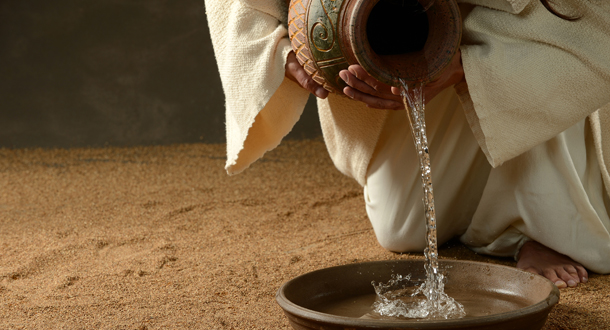 Scripture:
Exodus 12:1-8, 11-14
1 Corinthians 11:23-26
John 13:1-15
Reflection:
"If I, therefore, the master and teacher, have washed your feet, you ought to wash one another's feet.   John 13:15
This evening we begin the Triduum, the three holiest days of the year for Catholics. The Triduum begins with the celebration of the Mass of the Lord's Supper. The reading from Exodus recalls the origins of the Passover celebration of the Jewish people, who will celebrate this feast tomorrow. The lamb is slain and the blood is used to protect the people from the final plague, the Angel of Death. The blood was applied to the door posts so that the Angel of Death would know not to visit these houses. The Hebrew people were then freed from slavery in Egypt. These past 40 days of Lent was a time for us to change ourselves through prayer, fasting, and almsgiving. It was an opportunity to free ourselves from those things that keep us from God and to grow closer to God.
How have I changed these past 40 days?
The reading from Paul's first letter to the Corinthians recalls the words of the Eucharist as it was celebrated in the early Church. We still hears those words today in the Liturgy of the Eucharist. Words that are two thousand years old that recall the night when Jesus took the bread and wine of the Passover feast and instituted the celebration of the Eucharist. Jesus brings forth a "new covenant" for all who believe in him. Humanity is now freed from the slavery of sin.
The Gospel of John recalls Jesus' and the Apostles celebration of the Passover feast with a different focus than the Synoptic Gospels. Matthew, Mark and Luke have Jesus blessing the bread and wine and calling them his Body and Blood and asking the Apostles to "do this in remembrance of me." The Gospel of John takes a different focus. Jesus, the Son of God enters the house and prepares to wash the Apostles feet. Foot washing was the role of the lowest ranking servant in the house. Imagine the shock when Jesus takes on this role. The lowest servant would have been in shock, Peter is the one who objects and the other Apostles would have had a variety of shocked looks on their faces. For them, their teacher, rabbi, is taking the role of a servant. The Son of God humbled himself to wash the muck off of the feet of the Apostles and then tells them they must do the same for each other. If the Son of God can lower himself to do the least desirable job then as Christians we too must be willing to do those tasks that seem small and not important.

Linda Schork is a theology teacher at Saint Xavier High School in Louisville, Kentucky.