Scripture: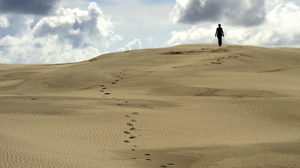 Isaiah 58:1-9a
Matthew 9:14-15
Reflection:
"The days will come when the bridegroom is taken away from them, and then they will fast." Matthew 9:15b
The Bible doesn't say we might fast, but that we will fast. Most of us do fast during Lent as fasting is one of the three pillars of our Lenten practice. We usually "give up" our favorite food or drink but we can also give up other things.
Fr. Mike Schmitz, in a recent post on Facebook, suggested that we ask ourselves what things keep us from being present to Jesus and being present to others, and that those are the things we need to fast from. Obviously there are too many to mention, but a few would be: Facebook, checking your phone (especially when you are with others), watching TV, playing video games, keeping your head stuck in a book, or being a workaholic. Too much of any activity takes us away from the Lord and from others. I even have a hard time walking away from a puzzle once I start it! A time of fasting helps us find balance with these things and helps us grow in self-control.
When we fast it helps to fast for a specific intention. At least for me it makes it easier to stick with it. Popcorn is my all-time favorite snack food which I eat nearly every day. It has even been my dinner on occasion! I rarely give it up, but I gave it up for our daughter Sr. Cecilia Rose on her 30 day retreat this year. I've been tempted nearly every day, but my love for her and the desire to offer up even a small sacrifice that will help her wins out every time and helps me deny myself.
Along with the other two pillars of Lent – prayer and almsgiving – our Lent can be rich indeed as we draw closer to God and closer to others. Plus we can consider fasting even when Lent is over. Many people still fast from meat every Friday and some religious communities fast from TV, email, snacks and rich foods. Some even fast from hot water and beds! Let God guide you to fast in the way that will best help you grow in your faith all year round.
"Even now, says the LORD, return to me with your whole heart, with fasting…" Joel 2:12

Janice Carleton and her husband Jim live in Portland, OR and partner with Passionist Fr. Cedric Pisegna in Fr. Cedric Ministries. She is the mother of 4 grown children and grandmother of 6. Janice also leads women's retreats and recently published her second book: God IS with Us. Visit Janice's website at http://www.janicecarleton.com/ or email her at [email protected].