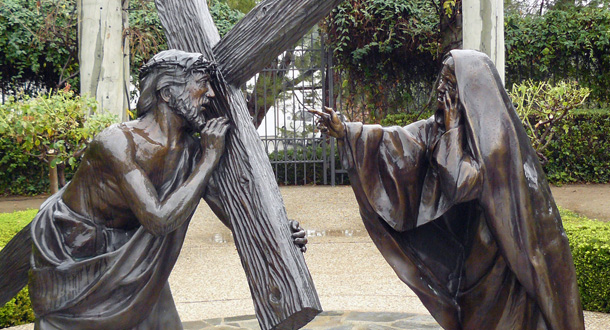 Good Friday of the Lord's Passion
Scripture:
Isaiah 52:13-53:12
Hebrews 4:14-16; 5:7-9
John 18:1-19:42
Reflection:
Moses Mendelssohn, the great-grandfather of the famous German composer, Felix Mendelssohn, was not a handsome man.  In fact, he was inflicted with a grotesque humpback.
One day he was visiting a merchant in Hamburg when he noticed the man's beautiful daughter.  Moses fell hopelessly in love with her.  But she was repulsed by his misshapen appearance.
When it was time for him to leave, he gathered up all his courage to try to speak with her.  But this beautiful girl wouldn't even look at him.  And this caused him much pain.  After several attempts at conversation, Moses shyly asked, "Do you believe marriages are made in heaven?"
"Yes," she replied, still looking at the floor.  "And do you?"
"Yes, I do," he replied.  "You see, in heaven, at the birth of each boy, the Lord announces which girl he will marry.  When I was born, my future bride was pointed out to me.  Then the Lord added, 'But your wife will be humpbacked.'
Right then and there I called out, 'Oh, Lord, a humpbacked woman would be a tragedy.  Please, Lord, give me the hump and let her be beautiful.'"
This beautiful girl looked up into his eyes.  Then she reached out and touched his hand.  Later she became his devoted wife.
This story reminded me of the words of the prophet Isaiah:
 "It was our infirmities that he bore,
      our sufferings that he endured.
      …he was pierced for our offenses, crushed for our sins.
     Upon him was the chastisement that makes us whole,
     By his stripes we were healed" (Cf. Isaiah 53).
Indeed, Jesus took upon himself the infirmities of us all.  We who were once humpbacked with selfishness and sin have been made beautiful by the sufferings and death of Christ.
     We adore you, Oh Christ, and we bless you,
          because by your holy cross you have beautified our world.

Fr. Alan Phillip, C.P. is a member of the Passionist Community at Mater Dolorosa Retreat Center, Sierra Madre, California.   http://www.alanphillipcp.com/