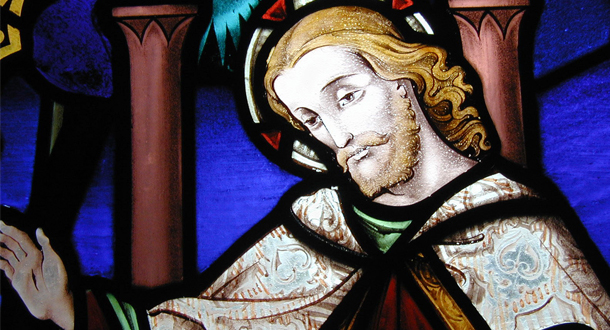 The Easter Vigil in the Holy Night
Scripture:
Genesis 1:1-2:2
Genesis 22:1-18
Exodus 14:15-15:1
Isaiah 54:5-14
Isaiah 55:1-11
Baruch 3:9-15, 32-4:4
Ezekiel 36:16-17a, 18-28
Romans 6:3-11
Mark 16:1-7
Reflection:
Brace yourselves – it's the "Mother of All Vigils."
(I promise this reflection won't be as long as the Vigil…. I hope)
This is the high point of the Christian year – the "Crown Jewel" of all the Liturgies the Church has to offer.  It's the fullest celebration of the Paschal Mystery.  The Source and Summit of our life as God's people.  "Gloria" is sung again, and "Alleluia" rings out with reckless abandon for the first time since before Ash Wednesday.  It's the crucifixion and death we thank Jesus for, the Resurrection we praise God for, the feast by which we are lead into eternal life!
In a nutshell, all the readings of the Vigil (there are 7 Old Testament, 1 Epistle, and a Gospel reading) tell the story of salvation and God's relationship to us.  There are themes of light, water, and the way God uses common relationships to reveal himself to us.  This is all about how God comes to meet us – how God has saved us, and pursued us through all ages and generations, just waiting to bring us to new life, both in this world and when our earthly journey is over.  Believing that, how can we not be joyful?
But I think the Gospel is what interests me most.  The women in tonight's Gospel, Mary, Mary Magdaline, and Salome, go to anoint the body of Jesus.  Carrying their spices, they walk in sorrow and despair, heartbroken because of the death of their friend.  Their teacher, the one they'd followed, the man who'd understood them unlike anyone they'd ever known, had been arrested, crucified, and buried.
But when they get there, they find an open tomb.  Inside, there's a young man dressed in white.  "He is not here – he has been raised!" he says to them.  After realizing what happened, they run back and start spreading the Good News.  These women went to the tomb, seeking the dead, but found life – and then took off running, sent to share that new life with all!
I'm someone who deeply likes to laugh.  I enjoy happy, silly movies that aren't at all based in reality.  I prefer to ignore our human realities of hurt, pain, illness, betrayal, death… all the things that entomb us.  I seek the living, not the dead.
But I've realized that in doing that, I'm not living the life to which God has called me.
And I'll admit that there are times in my journey, lots of them, that I expect only to find the dead.  Each time I see a homeless person on the freeway off-ramp, do I see a tomb of their desolation?  When I pass by a nursing home, do I see a last stop of someone's train to death?  When I see someone in a wheelchair or someone with a developmental disability, do I conclude that they're trapped, less than me, only a marginal person?
Or… do I see the possibility of God living there, waiting for me?  Even more, do I recognize Christ in the faces of those people?  Perhaps they are in a tomb, waiting for a resurrection of their own.  And maybe, just maybe, God is asking me to reach out to them and spread the gift of the resurrected life he's given so generously to me.
Where do we look for Christ?  What are we seeking?  I believe we should seek the dead.  And if we do, we can find new life in the midst of our sorrow.  Without the cross, there can be no resurrection.  And there are so many in need, so many hurting, so many trapped in a tomb, sometimes a tomb of their own making… I know I feel that way myself, and I'll bet I'm not the only one.
But we're also charged to do as the young man – the angel – instructed, "But go, tell his disciples." (Mark 16:7)  Go and tell.  We are commissioned, as part of our resurrected life, to be more effective goers and tellers.  We mustn't hide our light.  We must keep our salt salty.
So go to the tomb.  Seek the dead around you.  In someone's darkest night, be the holy fire that brings them Light.  And then run, bring God to your part of the world… a world that desperately needs you.
Remember… "Christ has no hands on earth but yours."   From a Prayer of St. Theresa of Avila
Dear God, giver of the most incredible gift of love, thank you.
Dear Christ, beacon, let us be your light.  Let us be your hands.
Let us be your resurrected body to the world.   Amen.

Paul Puccinelli is Director of Liturgy & Music at St. Rita Parish in Sierra Madre, CA, and a member of the Retreat-Team at Mater Dolorosa Retreat Center.