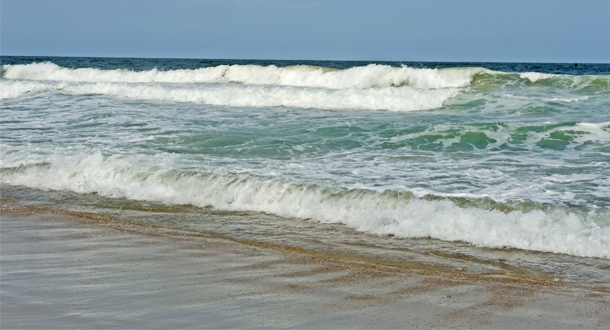 Scripture:
Jeremiah 20:10-13
John 10:31-42
Reflection:
Happy Friday of the Fifth Week of Lent!
Have you ever felt like you were drowning?
Water — the ocean, lakes, rivers, and streams — have always been places where I've found peace and solace. But there was this one day…
Many years ago, while performing on tour with a symphony orchestra, some of us walked out of our hotel and out to the beach to spend our morning off. Everything began so calmly and joyfully as I went out to swim a little. Suddenly, without warning, some rough tide rolled in and I became caught in the current, and was pulled out a considerable distance from shore. I realized I was alone out there, and panic began to ensue. The water began to cover my head, I started flailing my arms above my head and cried out as loud as I could, "Help."
What I hadn't realized was that there were some people — people whom I didn't know at all — who had seen what was going on, hopped on a small craft, and were already rushing out to save me. My arm was grabbed and pulled, and I found myself sitting on their boat, heading back to shore… to safety.
Being underwater really did stink… but before I even knew I needed help; my rescue had already been set in motion. I was pretty fortunate that day…
But there are some times I find myself experiencing other types of "drownings." I'm no stranger to being hurt by friends, family members, and partners… I don't think any of us are. And I'm also no stranger to hurting other people, even if inadvertently. One such moment was very recently, while closing in on the end of a very deeply challenging and emotional day on many levels. While in conversation with friends, I had become so frustrated with a series of exchanges that, eventually, I found myself under a flood of frustration – my arms flailing above my head – but instead of crying "Help," I spoke in a tone not indicative of the love I share for them. And for that, I'll always be filled with regret.
Being "underwater" can really stink.
I guess it's probably a pretty universal thing for all of us humans to have times when it feels like we're just underwater. There we are, walking along our path with a calm normalcy, and suddenly, without warning, rainclouds come and open up, unleashing their stores of water, flooding us, and making dark all that surrounds us. And when that happens, how easy is it to feel just so very alone.
Our Psalm in today's Liturgy of the Word (Psalm 18:2-3a, 3bc-4, 5-6, 7) sings,
"The breakers of death surged round about me,
the destroying floods overwhelmed me.
In my distress I called upon the LORD
and my cry to him reached his ears."
There will always be times we find ourselves "underwater," feeling so very alone — as though nobody else in the world knows what we're going through. But God is always there, trying to reach us, hold us, help us. In fact, God knows and sets in-motion our salvation long before we even realize we're in need. God is there, sending companions to help us on our journey. God is there, trying to reach us through the very experiences and encounters of our daily lives — our every-single-moment… if only we would listen.
Who has been God to you in your need?
How has God used you to help others in their need?
Dear Lord,
I'm underwater… and it sure feels like a lot, lately.
My arms are flailing, and I'm screaming for help…
for someone to save me.
I know you're there, but sometimes I don't recognize you.
And other times, I try to ignore you.
Please,
open my ears to the sound of your voice.
Open my eyes to the sight of your presence.
Open my heart to the outpouring of your love.
And, please, dear Lord,
help me be the kind of person
that can bring You to life
to all the people in my world today.
Amen.
Peace and love to you today, and forever.
Paul Puccinelli is Director of Liturgy & Music at St. Rita Parish in Sierra Madre, California,
and a member of the retreat team at Mater Dolorosa Passionist Retreat Center.