Scripture:
Deuteronomy 26:4-10
Romans 10: 8-13
Luke 4:1-13
Reflection:
Who owns your heart?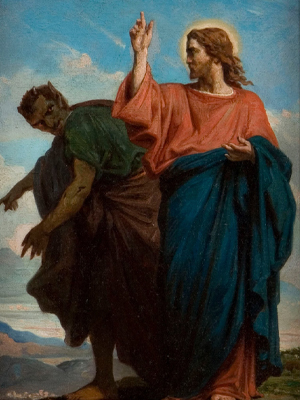 This is the question Jesus wrestles with while alone in the desert. After his baptism by John in the Jordon, his family, friends, the religious establishment were probably wondering about him, observing him, curious to find out what would come next in his young life.
Escaping society, going into the desert alone, Jesus is face to face with his core self. "Who am I? What is my purpose? What does my Father want from me?"
As he ponders his selfhood, The Evil One steps in to do his best to win his heart. Jesus might have asked himself, "Why not go for pleasures, possessions and glory?" The Evil One responds, "I can accommodate you easily if you let me. All you have to do is let me have your heart."
Jesus knew every seduction. He flirted with being a well-respected liberator, who the Jewish community had long-awaited, to lead the offensive against the Romans. Or he could be a magician-healer who performed miracles to the ego-boosting applause of onlookers. Or, perhaps, growing up in a backwater town like Nazareth, he could use his intelligence and entrepreneurial skills to be a successful businessman, amassing wealth beyond that of his family and friends. Better yet, as a young man well-formed as a good Jew, he could have joined the religious establishment and lived a comfortable life as a rabbi.
All of these options churned in him while he lie awake under the stars, alone in that big desert.
No doubt he took all his longings and urges to his Father in prayer while huddled against a rock, under a cloak to keep out the night chill.
At his most vulnerable state, having fasted for 40 days and nights, the Devil dropped by to greet him and offer the best of the best if Jesus would just give him his heart.
Jesus listened intently to the Evil One's spiel. Lucifer talked a good game. Jesus surely envisioned scenarios that could really make life rewarding and pleasurable. Why not just give in?
But the Spirit, who led him to the waters of John's baptism and then led him into this desert, stepped up to say, "Not so fast, Prince of Darkness!"
Back and forth Jesus went, losing sleep, shaken by the burden of freedom. Enfeebled by the harsh elements and his empty stomach, he remained undecided.
Then the Spirit, like a gust of hurricane wind, stirred in a powerful way. Surrendering totally to his Father, Jesus gave a resounding response, "You shall not tempt the Lord your God!"
And so the defeated Evil One backs off, "…he withdrew from him for a time."
We know the rest of the story. Jesus' final temptation, in the Garden of Gethsemane, will be his last and most important temptation, the Devil at his back again.
But for now, having given his heart entirely to his Father, he is ready for his life's mission. Henceforth every action will be according to his Father's will.
For 21st Century radical disciples, this temptation story is one we each experience every day in our own unique lives. We can dismiss a face-to-face look at ourselves by getting absorbed in life's superficial distractions, entertainments and busyness. Or we can stop and unplug from demands and expectations of others and let ourselves be transformed.
Lent is an opportune time to withdraw, to unplug. We might begin setting aside a special time for silent prayer daily. Better yet, we might schedule a retreat to deeply reflect on our lives as Christians and determine, under the guidance of the Spirit, if a new direction is necessary. Or we might just walk alone in the woods or along the shore, letting God speak to us in the quiet of our hearts.
Jesus gave his heart away and found the fullness of life. This Let he invites us to do the same.
Jim Wayne is a board member of the Passionist Solidarity Network (PSN), and author of The Unfinished Man. He lives in Louisville, Kentucky.