Scripture: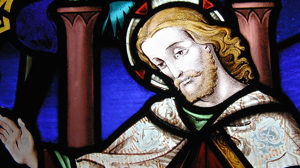 Deuteronomy 4:1, 5-9
Matthew 5:17-19
Reflection:
Father Casper Watts, C.P., told great stories. Once a week, he would come into our third and fourth grade classrooms to teach us religion. Oh, how I looked forward to those times. Unlike regular religion class where we learned to memorize our prayers and the correct responses to the catechism's questions, he told of the wilds of California where he had just come from. He would tell of mountains, and woods, and the animals he had seen there. He made religion fun and something I wanted to be a part of—life.
Jane Addams was also a great storyteller. Her book, "Twenty Years at Hull House" tells of her welcoming immigrants from Catholic countries like Italy, Germany, Poland and Ireland to this, what had to be for them—strange city of Protestants. Many did not speak the language nor understand the culture.  Miss Addams, a Protestant, established Hull House for them—a safe place that not only educated these immigrants about their newly adopted "promised land", but also provided a place where they could share their stories through food, dance and yes, storytelling.
As they are about to enter their promised land, Moses tells his people in today's scripture selection:
However, take care and be earnestly on your guard
not to forget the things which your own eyes have seen,
nor let them slip from your memory as long as you live,
but teach them to your children and to your children's children.  (Dt 4:9)
Help me God to spread your good news to everyone and anyone who comes into my life today and just as importantly help me listen to their stories and learn of their cultures.

Dan O'Donnell is a Passionist Partner and a longtime friend of the Passionists.  He lives in Chicago.