Scripture: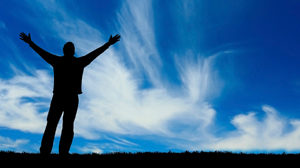 Reflection:
Seeking 'signs' seems to be a natural need in the average person. We all seek signs that we are going in the right direction (be in a journey or relationship) – signs to reassure us, to direct us, to convince us and to draw us on to further investment of self, trust or time and effort. We seek sings that give us a sense of 'feedback' – signs that tell us that what we are doing or what we are trying to convey to another is 'working', i.e. that it is being heard or being understood.
Sometimes it is not us looking for a sign, but giving them! We all give signs to another that we are thinking of them, that they mean a great deal to us, that we are supporting them.  Sometimes such signs are akin to sending 'a messenger' – we telegraph signs of our interest in another before we dare to approach them and convey this same message by word of mouth. Films love to portray this theme especially when it concerns developing relationships – think of the dilemmas and dynamics of adolescents contemplating asking a member of the opposite sex for a 'date'. They signal their intentions by all sorts of means to the one they desire (and look in turn for signs that their own 'signals' are being received and reciprocated) – all before acting!
So we need not be surprised that in our gospel passage today we meet this dynamic in the crowds who were attracted to Jesus. They had not yet 'let go' of this same need for some kind of reassurance or even 'proof' that what Jesus was saying and offering, was indeed true and would justify them making any act of faith or belief in the vision he presented.
But Jesus was offering and still does offer us a new kind of relationship between God and humankind, a relationship that is based on a new dynamic – one that does not lend itself to signs and proofs.
Jesus presented a vision of God as a Father who wanted to enter into a new, deeply personal and everlasting way of being with us. The relationship with God that Jesus spoke of was a freely offered gift to us, something unmerited by our efforts.
Yes, such a vision and hope did ask of us a fundamental surrender and a leap into the unknown; it was a gift that required assent on our part, and yet was underpinned by the promise of God – a promise that God would be faithful to us eternally.
Jesus not only revealed God's essential nature (love) and offered the relationship possibility to all, but he also modelled the human response to God in the face of such an offer. By his own life, example, fidelity and living out of the relationship itself he enabled those touched by his Spirit to see both God's love offered and fully responded to.
So if there is to be any 'sign' of God's desire to be with us, any 'sign' of God's faithfulness to us and any 'sign' of God's love for each of us, we only need to took to Jesus and especially to his passion, death and resurrection.
And if we wish to see any 'sign' of what it means to enter into such a relationship, again we only have to look to Jesus as our model and perfect example of our own capacity to fully give ourselves to God.
While the death of Jesus might seem a "Jonah-like sign of contradiction" (in that it turns human images of success on their head), when viewed through the lens of the resurrection it becomes the greatest sign of God's love for us. Truly the only sign we will ever need!
Fr. Denis Travers, C.P., is a member of Holy Spirit Province, Australia.  He currently serves on the General Council and is stationed in Rome.