Scripture: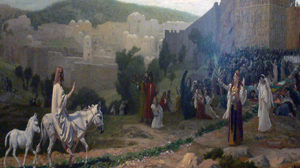 Jeremiah 7:23-28
Luke 11:14-23
Reflection:
I grew up watching the old English legend of Robin Hood airing regularly on our family TV. Escape into this fantasy world was a wonderful time waster and along with my siblings and many other children thoroughly enjoyed these adventures of the thief of Sherwood Forrest 'robbing from the rich and giving to the poor.' Suddenly actions that seemed to be illegal were shown to be acts that rebalance the situation and bring some justice to those oppressed by a cruel ruler.
Here I'm not commenting on whether this is to be seen as right or wrong, nor am I competent to confirm whether Robin Hood existed or not. Indeed I do not know if his motives were as noble as proclaimed, but these issues seem not to matter to devotees of either the TV show or later films that celebrated his life. Further,  and if we needed proof of his popularity even today, we need only turn to the UK where the Doncaster Sheffield Airport was formerly known as 'The Robin Hood Airport'!
But it is the idea of 'robbery' that links the story of Robin Hood with the proclamation of Jesus in the gospel today.
In response to critics who try to manipulate the crowds – by labelling the casting out of a demon by Jesus as a work of the devil – Jesus uses a very challenging image to describe his own ministry. He presents his actions in terms of robbing a fortress like dwelling. "When a strong man fully armed guards his palace, his possessions are safe. But when one stronger than he attacks and overcomes him, he takes away the armour on which he relied and distributes the spoils".
We may interpret the text as Jesus speaking of himself as the one who is invading the 'fortress' that Satan has made his own and 'robbing' him of all his possessions! Jesus here is describing his work as that of breaking into those places and lives where evil reigns and 'stealing' away human hearts and motivations from any orientation to sin and bringing people into a kingdom of light and safety. He not only rescues people from situations of evil but he gives them back their potential and capacity – as witnessed in the cure of a man made 'mute' by a demon who after Jesus' action to free him can now speak!
Today we are invited live our lives trusting in this energy of Jesus who is constantly at work to bring us to safety and new life.
Perhaps too, we might pay attention to the contrast between being mute and speaking out. In the 1700s Irish statesman and philosopher Edmund Burke is attributed to have said that "The only thing necessary for the triumph of evil is that good men should do nothing." As Christians let us not allow our own voice to be silenced and be made 'mute' by any seduction or attempt to quell our witness to the gospel and to the values of life.
Rather as this Lenten time unfolds for us, let us recommit ourselves to using the gifts of God – our voice, our witness and our capacity to love our neighbour – to combat evil in any guise it takes with our society. Let us amaze the crowds by our imitation of the ways and actions of Jesus.

Fr. Denis Travers, C.P., is a member of Holy Spirit Province, Australia.  He currently serves on the General Council and is stationed in Rome.