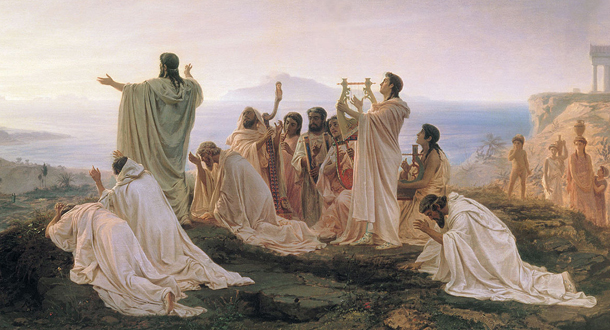 Scripture:
Reflection:
"Get out of Town"
"Get out of town", is a phrase we used in the old days when we heard something that we couldn't believe. That is literally what the people of Nazareth told Jesus, when He told them that He was a prophet, that He speaks the word of God. Jesus' hometown folk accepted Him as a Teacher, but Jesus wanted to serve His hometown by being a Prophet. However, Jesus said, "no prophet gains acceptance in his native place." Like the people of Nazareth, many of us also refuse to accept Jesus on His terms. Are you telling Jesus to, "Get out of town"?
We all want to have more money so things will be easier. We want to drive a fancy car so we can have the prestige that goes along with it. We want a big luxurious home so we can rest comfortably. We want good health so we can enjoy all these things. We want relationships that are not shaky. We want to live life on our terms. The straight and easy road. No problems. No worries. We say, take those crosses and let someone else carry or bear them. These are my ways. Jesus cannot possibly want me to go through something that makes my life hard and painful.
But Jesus' ways are not our ways. His are always good, always saving. For us to be blessed with happiness, success, and healing, we must carry our own cross. We must carry the burden of repenting, forgiving, sacrificing, evangelizing, serving, being persecuted and other forms of love before we have his blessings. Jesus wants us to carry our crosses, not shed them. Jesus wants to give us blessings in the shadow of our crosses. Accept Him on His terms. These are the terms of Jesus.
Soon, on the first day of the Easter season, all Catholics of the world will be given the opportunity and the challenge to renew their baptismal promises. The heart of these promises is to accept Jesus on His terms. Jesus' terms are focused on the cross. Are we willing to accept His terms or are we going to tell Jesus to, "Get out of town"?
Deacon Peter Smith serves at St. Mary's/Holy Family Parish in Alabama, a religion teacher at Holy Family Cristo Rey Catholic High School in Birmingham, and a member of our extended Passionist Family.