Scripture: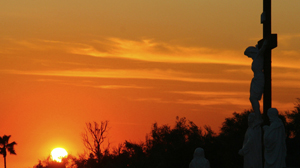 Reflection:
I have just taken on a pastoral assignment on Birmingham's eastside. It is the most diverse parish that I have encountered in the diocese: African, Asian, Central American, Mexican and the diversity of the U.S.A.
The parish has no mission statement, no council, and the very competent pastoral team heads up most everything. We are under-taking four "meet and greet" sessions to address: "How is God calling the Body of Christ, our parish of Our Lady of Lourdes in the Roebuck/ Center Point area, to be a public witness/sign of God's Way, Truth, and Life?" In other words, we are building a mission (how we are sent) out of a vision (what God wants us to see around us.)
I've been paying close attention to the building of the earliest Christian communities through the journeys of Paul, Barnabas, John Mark, and others in Acts.
Yesterday we were reminded by Jesus that He is the "I AM." The God who brings us through everything that would distress us. Paul reminded us of the actions of God, the Moses-led Exodus, the over-coming of countless obstacles to establish a "Promised Land." God sent bold leaders in Samuel, Saul, David, John the Baptist and Jesus the Son of God.
Paul continues his address in the synagogue today by reminding us that the witnesses to the resurrected life of Jesus continue to inspire, lead, and to act for the sake of building the kingdom of God.
This necessarily means a lot of courage. Not just facing into the bad news that comes from the ordinary sufferings due to our human fragility, but also the bad news caused by ignorance, greed, self-centeredness, and intolerance. "Do not let your hearts by troubled." Jesus advises us knowing full well that to seek Him means to be on the Way, to apply our skills to act in service of others is the truth backed up by actions, and not to count neither the cost or the results of our work is the Life that comes abundantly from "I AM," Who says, "Nothing can stop me from loving you."
Fr. Alex Steinmiller, C.P. is president emeritus of Holy Family Cristo Rey Catholic High School, Birmingham, Alabama.