Scripture: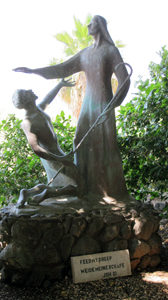 Reflection:
About five years ago I was blessed to stand on the shore of the Sea of Galilee and ponder this Gospel. In that spot stands a bronze depiction of Jesus' commissioning of Peter to "Feed My Sheep." It shows Jesus with an outstretched arm while Peter is brought to his knees before him.
As I reflect today, two things come to mind: Post-resurrection, I believe Peter now understands, and embraces, Jesus teaching on the Beatitudes of forgiveness and mercy; and secondly, Jesus takes a step reflective of Psalm 139:1f, "Lord, you have probed me, you know me…" He knows Peter's need for healing, even if Peter has not yet come to this realization himself.
Jesus wants to heal Peter of the memory of his denial when he asks "do you love me?" three times. Then Jesus commissions him to "feed my sheep". The Shepherd is entrusting his sheep to Peter.
There is a very subtle element to this exchange and that is Peter's posture. While we understand this is not the first time Peter and Jesus have met following Peter's denying Jesus; Peter doesn't seem to have any remorse as he confidently declares, "Yes, Lord, you know that I love you" in the shadow of his denial! In my humanity I want to ask—how could one possibly come to that understanding following your behavior, Peter? And my answer is that Peter really comes to understand Jesus' life message of the complete and total acceptance of the merciful love of God. He doesn't fall into humanity's trap of un-forgiveness. He doesn't seem to question if Jesus forgives his unforgiveable sin or –more importantly—if he forgives himself! He opens wide his heart in vulnerable trust to his Redeemer. He stands before Jesus in his nakedness—not in fear and trembling but in fully embracing his redeemed humanity, gloriously! This is transformation.  And so, before Peter strikes out in ministry, is it possible that Jesus might have been testing Peter's convictions—his new awakening to the message of the cross and beyond? Not because he (Jesus) didn't know everything but because Peter needed to verbalize this foundational principle?
The power of grace at work in Peter's life is the same power at work in our own life. How many of us feel shame around our actions or inactions and do not feel worthy to approach Jesus in this shame? For most of us this may be a subtle shadow existing in the periphery of our consciousness—yet, it is still there. Psychologists tell us that rather than going away these unclaimed shameful experiences become larger out of sight. This is our humanity. Our invitation today is to step through, like Peter, and encounter Jesus' healing of our total self so as to be an instrument of God's merciful healing in our world.  Today, may we confidently approach the throne of grace to receive mercy and find grace for timely help. (Hebrews 4:16). Amen.
Jean Bowler is a retreatant at Mater Dolorosa Passionist Retreat Center in Sierra Madre, and a member of the Office of Mission Effectiveness Board of Holy Cross Province.