Scripture: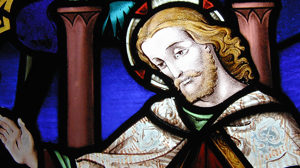 Acts 1:15-17, 20-26
John 15:9-17
Reflection:
In a beautiful way, Our Lord tells us in today's Gospel that just as the Father loves Him, so He also loves us; a sentiment that should truly warm our hearts. We are loved by the Lord, not mankind generally, but each of us, and in a very profound way. When I sit with that thought and reflect on it, I am truly humbled.  It's pretty amazing.  He follows that with a statement telling His disciples, and us, to remain in His love.  Telling us to stay close to Him.
While He tells us that following His commandments and loving others is the way to remain in His love, why did He need to emphasize to us that we need to remain in His love?  Did He know the temptations we would face? Did He know that we would be tempted to flee from Him and deny Him?  Did He know how much the culture would pressure us to turn from Him, distract us or how much it would drown Him out?
We all love the feeling of being close to Our Lord, but it no doubt can be a challenge in today's world to keep ourselves strong and focused enough to remain there.  Like anything else we want in life, it takes effort to stay there.  What is our plan to remain in the love of the Lord? A full life of prayer?  Daily mass?  Frequent confession?  Spiritual direction?  Retreats?  Hopefully all of the above.
Thank goodness though that staying close to our Lord, and in His love, is not all up to us.  We have a God who does not abandon us, does not leave us on our own.  He gives us the Holy Spirit, the advocate. With the gifts of the Holy Spirit we are so much better equipped to persevere in the challenges we face to remain in the love of Our Lord.
Lately I have been including in my prayers a request that the Lord send me the Holy Spirit to guide, inspire and purify me.  Something to think about on the eve of Pentecost.  With the gifts of the Holy Spirit, I like our chances of remaining in the love of Our Lord.
Steve Walsh is a retreatant at Mater Dolorosa Retreat Center in Sierra Madre , and a good friend of the Passionist Community.