Scripture: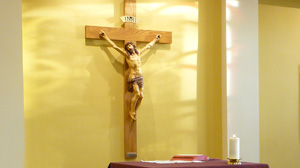 Reflection:
All of us center our lives in whatever we think will give us life. It is money and possessions for many of us, power and pleasure for others, and perhaps privilege and influence as well. But the message of today's gospel is quite straightforward: To live is to be in Christ and not to be in Christ is not to live at all. There is no alternative life source; there is no other possibility for being. Jesus must be the source and center of our lives for apart from him we wither and die.
We should understand this not as a doleful warning but as a richly hopeful promise. Jesus says not just "Remain in me," but "Remain in me, as I remain in you." That is precisely our hope and the source of our joy. We can live with confidence and courage, with faith, hope, and love, and with absolutely resolute joy because as we make our way through life Christ is in us and with us. We are never alone, we are always with Christ. Christ strengthens us. Christ comforts us. Christ encourages, consoles, and supports us. Best of all, the Christ who lives in us works through us to bless and redeem the world.
We often wonder if our lives will make a difference or if our attempts to do good really matter. And yet, Jesus assures us: "Whoever remains in me and I in him will bear much fruit…" So what are we waiting for? If Christ lives in us and acts through us, then whether we see it or not, we are bringing the love, mercy, justice, and compassion of God to others. We are changing people's lives and transforming the world. We are helping build the kingdom of God. And, as today's gospel reminds us, we are glorifying God.

Paul J. Wadell is Professor of Theology and Religious Studies at St. Norbert College in De Pere, Wisconsin, and a member of the extended Passionist Family.