Scripture: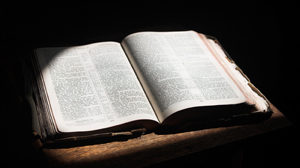 James 4:13-17
Mark 9:38-40
Reflection:
Driving out demons. If any theme fascinates Hollywood – and often leaves us on the edge of our seats as we watch late night television – it is that of some kind of battle with evil forces! Forces that initially seem powerful and malevolent and are intent on waging some kind of war on humankind. Added to this is the sub-theme usually accompanying the major one of the few against a force that is powerful and lurking with evil intent.
Perhaps in the same way we could be distracted by the setting of today's gospel reading – albeit that it too speaks to us of the eternal contest between good and evil. We could restrict ourselves to a meditation on that great drama being played out across time and history – the struggle of good to overcome evil – a struggle in which Jesus Christ is the ultimate victor.
However, let us go beyond this and see today's gospel in a way that is more immediate and speaks to our inner life just as importantly as to the outer world in which we live.
The context is clear – the disciples try to prevent someone driving out demons because he is not a 'recognized' follower of Jesus. He is not part of their movement. In this they want to adopt a judgmental stance and impose some kind of 'exclusivity' upon the mission of Jesus, and at the same time highlight the benefit of being with the inner circle of followers.
Perhaps their stance is easy enough to recognize and even understand; indeed we all acquainted with the idea that some boundaries are needed around any organisation or movement so that it has coordination, direction, purpose and consistency.
But the lesson to be learned is more subtle. In excluding others, not on the basis of their good works, but on the basis of their official 'status' the disciples want to add the dimension of 'exclusivity' or perhaps 'ownership' into the reality of their mission for, and on behalf of, Jesus. In this way they would create a kind of inner circle of privilege or relationship with Jesus.
In response to their stance, Jesus adopts a very moderate and reflective attitude. He prefers to be inclusive in his vision and to welcome the collaboration of people on the basis of their good intentions and desires. Jesus looks to the heart. If Jesus judges in the external forum then it is only on the basis of the fruits of one's endeavors.
Perhaps then we can take this gospel to heart. Let us learn from Jesus and not rush to judgement on any basis let alone that of whether a person is 'in' or 'out' of a group or whether their ideas, life-style or belief system are akin to mine or not.
We are pushed and pulled by many forces in life today; often by forces that suggest to us strongly that we should adopt a certain position or that someone or some view is 'wrong' or 'outside' of the norm. Let us not be hasty in judging.
Like Jesus let us be reflective, reasoned and above all open so that we can give to all the benefit of the doubt until we see the fruits of their actions. "For whoever is not against us is for us."
Fr. Denis Travers, C.P., is a member of Holy Spirit Province, Australia. He currently serves on the General Council and is stationed in Rome.