Scripture: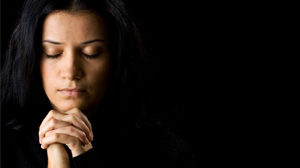 James 5:13-20
Mark 10:13-16
Reflection:
"Then he embraced the children and blessed them, placing his hands on them." Mark 10:16
Both readings and the responsorial psalm today are about praying. This seems very fitting to me as we are invited and encouraged to deepen our prayer lives. I was especially drawn to the last line of the gospel today because I love the idea of laying hands on our children and blessing them.
When our kids were little, we started doing that after we attended a family church camp. At camp we were taught to make the sign of the cross on the child's forehead, lay our hands on their head, and then pray a simple prayer for them. We practiced at camp, on adults as well as children, and it is still one of my favorite experiences… having someone lay their hands on my head and pray for me!
You can't bless your children too much! Just the power of touch has been studied, and affirmed. What a wonderful way to remind your kids that God is with them and that you love them no matter what! We prayed over our children through the years when they were sick or when they had something big coming up at school. When they got to high school, we prayed with them for tests, and whenever they were driving anywhere. We even blessed the van they drove back and forth to school and activities.
Because the Lord has no hands now on earth except ours, I truly believe that when we bless someone in this way, the Lord is touching them through our hands. We can pray for anyone, not just children, and be an instrument to let the Lord bless others through us. What a privilege we have to pray for one another. May we be willing to let the Lord use us in this way whenever we have the opportunity. Just do it!
Janice Carleton and her husband Jim live in Portland, OR and partner with Passionist Fr. Cedric Pisegna in Fr. Cedric Ministries. She is the mother of 4 grown children and grandmother of 6. Janice also leads women's retreats and recently wrote her first book: God Speaks to Ordinary People – Like You and Me. Visit Janice's website at http://www.janicecarleton.com/ or email her at [email protected].