Scripture: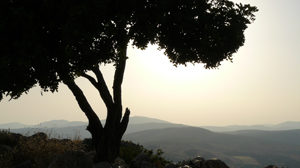 Acts 25: 13 – 21
John 21 : 15 – 19
Reflection:
In the marvelous movie "Lion in Winter" in which Peter O'Toole and Catherine Hepburn depict King Henry and Queen Eleanor at Christmas time with their three sons, all of whom are anxious to replace Daddy on the throne of England, there are constant sets of circumstances which give life to the euphemism, "Don't look now, but…"  They are forever plotting and contriving to make their desires become a reality but something always happens to change directions and possibilities, moving them along entirely different pathways.
"Don't look now but…" is a phrase which invites us to move more deeply into our Sacred Scripture for today.  In the Gospel of John, the Risen Lord is taking care of a few final but important details having to do with Peter.  In the Acts, Luke is moving us headlong toward the final proclamation of the Gospel  at "the ends of the earth", i.e. the city of Rome.  Let's stand alongside Peter and  the Risen Lord for a moment.   Don't look now but the effervescent, blustery, and impulsive Peter of old is gone.  He has been humiliated and has failed to the extent that he betrayed Jesus three times.  Peter has returned to the only job he knows he can manage, given his circumstances.  He is fishing again.  He can be  low key and safe on the sea and along the seashore.  Then the Risen Lord appears and Peter has one of those moments : don't look now, but this seaside life is not what I have in mind for you.  Three times Jesus asks, "Do you love me ?"  Three times Peter surrenders his heart to the Lord.  Peter is forgiven.  Peter is rehabilitated.  Peter learns a depth of compassion and mercy which only one who has experienced it can understand and provide for others. Don't look now, but you are not to be a fisherman, you are to be a Pastor of Christ's people – feed my lambs, tend my sheep, feed my sheep.  God's direction will guide you to your destiny.  Peter, you are to be a witness of the Risen Lord "to the ends of the earth", i.e. in Rome where others will determine how you will give your final and most profound witness to the Risen Lord in your heart, your life and in our world.  Don't look now, but the Risen Lord has shifted everything you expected out of life as you cast your nets into the sea for the last time.  The shift is the action of the Holy Spirit and it is marvelous in God's eyes.
Don't look now, but Paul, in this scene from the  Acts, has coupled his own ingenuity with the presence and power of the Holy Spirit in his life to create a completely unexpected turn of events in his journey of witnessing to the Risen Lord.  Governor Felix has left the new governor, Festus, with a conundrum – namely Paul and the accusations against him. When he decides to send Paul to Jerusalem, a hot bed of hostility against Paul, the Apostle appeals to Caesar.  Don't look now, but Paul automatically guaranteed himself a journey to Rome at the government's expense which is where he wanted to go in the first place.  He will spend several years living comfortably in Rome while freely preaching the Good News of salvation in Jesus Christ.  Don't look now, but Paul will not only found a vibrant faith community in Rome but will provide an unshakeable foundation of faith, hope and courage by his final and profound witness to the Risen Lord through martyrdom.
Don't look now, but the Holy Spirit moved through the circumstances of the lives of both Peter and Paul to bring about unexpected, wondrous, and lasting fruit through the shepherding, nourishing, and affirming presence to the faithful of their day in ways they never imagined for themselves.
This is the Holy Spirit we wait to celebrate at the conclusion of our Easter season.  The Risen Lord continues to stir things up in our own circumstances of life.  How do we respond when we have one of those moments – and we all have them from time to time – "don't look now but…"  Are we able to open ourselves up to the movements of the Spirit in ways we do not expect and cannot even imagine?  Are we able to count as blessings those moments of life when we are called to experience a deeper faith, a more trusting heart, healing for a fractured relationship, mercy for the sinner, rehabilitation for the betrayer?  Don't look now, but we are all called to surrender to the direction of the Risen Lord in our lives.  We are asked to avoid hesitation, fear, and excuses in order to be His witnesses to the ends of the earth today, beginning with our own families.
At the end of the "Lion in winter", Eleanor asks Henry, "Will you let me out (of my castle prison) at Easter?"  Henry responds, "You will rise with the Risen Lord!"  It is our destiny to rise with the Risen Lord.  He has asked us to be his witnesses every day in every way, to conform our minds and hearts to His so that our lives preach His Good News of salvation every moment until our own final, profound witness as we move into eternal life with Him.
Fr. Richard Burke, CP, is a member of St. Paul of the Cross Province and also serves on the Provincial Council of Holy Cross Province.  He lives at St. Ann's Monastery in Scranton, Pennsylvania.