Solemnity of the Most Holy Trinity 
Scripture: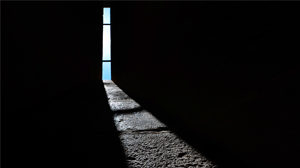 Proverbs 8:22-31
Romans 5:1-5
John 16:12-15
Reflection:
I have had many occasions to drive on the Schuykill Expressway through Philadelphia, PA.  Almost always, as one approaches the "Conshohocken Curve" on the expressway, one is stopped dead and then locked into stop and go traffic for twenty to thirty minutes.  Once one gets past the curve, traffic flows freely again.  There is never an apparent reason for the stop and go traffic and no one ever discovers the reason for the slow down.  I once was bringing an elderly priest to Wills Eye Hospital in that city.  Once past the curve he remarked, "It's amazing.  Understanding this slow-down rivals the Mystery of the Trinity."
Our Solemnity today is a celebration of God as God is.  Our God is three divine persons in one God.  How we attempt to reflect upon this great mystery of our faith can tie us up in knots.  Perhaps we need to begin by remembering this is a Mystery of faith.  Mathematics and logic have a wonderful roll to play in human life but do not reach to the realms of One God who is Father, Son and Holy Spirit.  Our scriptures can lead the way for us.  The very beautiful personification of Wisdom from the Book of Proverbs speaks to us of God and the divine ways from before the dawn of creation.  The Father, God's Word, and the Spirit experience such intimacy that it overflows into the creation of the universe, the earth and humanity itself.  From the beginning of time, our Triune God is with us, surrounding us with divine love and purpose.  Paul reminds us in the letter to the Romans that God, through, with and in Jesus and in the power of the Spirit, has blessed us with faith which sustains us in the joys of life and even in the times of affliction.  As a matter of fact, the afflictions, lived out in faith, actually produces hope that informs our living.  How do we recognize this ?  We see and understand it because of the love of God has been poured out into our hearts with Jesus in the power of the Spirit.  Paul gives us a great message of consolation and encouragement here.  Even though we may not be able to articulate the Mystery of the Blessed Trinity, we actually live in the mystery.  We have a God who is Three Persons who does not live aloof from all that has been created.  That would be contrary to the very act of creation itself which flowed from divine love.  Loving, for God, means to be present, to be involved, to live in and around God's most precious creation – the hearts of human persons.  Rather than aloof, our God has chosen to live in the closest union with us possible.  In our faith, we call this the divine indwelling of the Blessed Trinity which is given us in Baptism.
Saint John reminds us in our gospel reading that because of the presence of the Trinity in our hearts, God continuously invites us to a deeper experience of the Divine Presence within, to hear  God speaking to us, to see God acting on our behalf in life's circumstances, and to find a deepening understanding of God's revealing love as it is continuously poured out into our lives.   Our Triune God has chosen to be intimately bonded with us in life and for life.  God walks with us here and leads us to the pathways of the eternal Kingdom.  This not only makes God very special, it makes us very special in God's eyes.  Our solemnity today, then, is a special celebration of an amazing God who provides for us  an amazing source of love and encouragement in our everyday life.
On the feast of the Trinity, I am reminded of a music teacher's attempt to wrap her mind around the mystery of the Trinity.  She did so by having her students sing a "round" like Three Blind Mice.  I always smile too myself remembering this was the "round" practiced by the new boys' choir in Going My Way that drove the Pastor to the Bishop's office to have his new musical, assistant pastor transferred out of his hair.  The teacher, however, took the time to reflect on the ONE song sung in THREE timings which created a melodious dynamism that could last forever and give birth to great beauty.
I am not a musician but she helped me to think about our God in a creative, intriguing and fun way.  May we always be willing to reflect on the Mystery of our God who is Father, Son, and Holy Spirit, remembering that our God has chosen to be with us always, and celebrating God's love for us.
Fr. Richard Burke, CP, is a member of St. Paul of the Cross Province.  He lives at St. Ann's Monastery in Scranton, Pennsylvania.