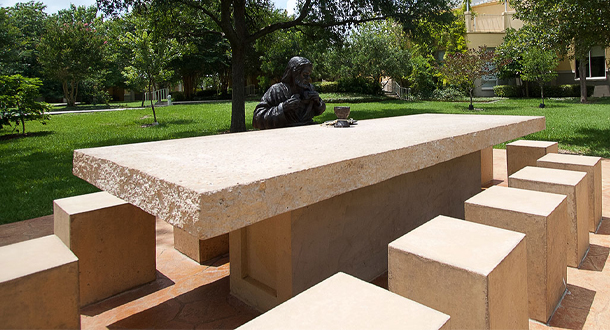 Scripture:
Acts 15:1-2, 22-29
Revelation 21:10-14, 22-23
John 14:23-29
Reflection:
My Lord and Savior;
How often at mass have I reached out to someone in the next pew and said, "Peace be with you"? Or at least I did before the Pandemic. Now we bow slightly to our left and right neighbors and smile, then wave across the aisle, then behind us and in front of us, and wish the whole church the Peace of God. Lord, I think it's an improvement! I'm reaching out to a whole lot more people than I used to.
John's words today remind me that there was no peace for you. You were forced to tell one of Your closest followers, sitting with You at your Passover table, to "go and do what you must", then watch as Judas blended into the twilight to betray you. Surrounded by your apostles, who each profess their love, you stand alone. Even Peter, the rock on whom you will build your church, refuses to hear the truth from Your lips as You tell him that he will, that very night, deny even knowing you, not once, but three times before the dawn.
All the lessons you had tried to impart to your disciples. The years you spent among them, and still they did not understand. You promised them that Your Father would send the Holy Spirit to help them remember your teachings and give them strength and skill to take those words of life to all the world. The terror you must have felt knowing the pain and degredation that was about to crash down upon you. Still you offered your loved ones Peace. Not peace as the world gives it, but as You unreservedly offer to each of us, just for the asking.
The suffering of loneliness, the pain of loss, the humiliation of a body that fails us in old age ~ forcing us to ashamedly rely on help from others. Concerning these sufferings, You told us to not be afraid or troubled. How do we know? Because You said, "… now I have told you before it takes place, so when it does take place, you may believe". Lord, I believe. Help my disbelief.
Ray Alonzo is the father of three children, grandfather of two, and husband to Jan for over 45 years. He is a USN Vietnam Veteran, and a 1969 graduate of Mother of Good Counsel Passionist Prep Seminary. Ray currently serves on the Passionist Alumni Council.