Scripture: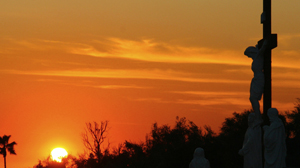 Acts 17:15, 22-18:1
John 16:12-15
Reflection:
Presence of God
"For in Him we live and move and exist." Acts 17:27   When I was in the Passionist seminary in Missouri many years ago, we had the practice at various times to stop recreation for about a minute and call out: "Presence of God".  At this announcement all became silent for a moment to remember the presence of the Lord.  Then someone would break the silence by saying: "Jesus and Mary be praised" to which all would respond: "forever and ever".  Then recreation would resume.   This was an old tradition in Passionist history. This exercise of reminding us of the wonder of God's nearness was of extreme importance in our spiritual growth more than 52 years ago!  It is the same today!
The fact that God is utterly close to us should be a major "wow moment" in our spiritual journey.   Presence in Hebrew is expressed by the beautiful expression panim faces.  There is a wonderful face on this encounter with God!  "Thus the Lord used to speak to Moses face to face, as a man speaks to his friend" Ex 33:11   God is present when we encounter His face by faith!
Meister Eckhart was just one of many mystics in the Church that reflected and cherished this beautiful truth of our faith.   "I am as sure as I live that nothing is so near to me as God. God is nearer to me than I am to myself; my existence depends on the nearness and the presence of God."
Loretta Young was once asked to comment about prayer. "I believe that prayer is our powerful contact with the greatest force in the universe."   I think these are words of someone completely taken with the wonderful truth of God's utterly loving and powerful nearness. How often God speaks of His "not being far from us." "For in Him we live and move and exist."
St Paul of the Cross had a tremendous understanding of the presence of God.  "O my Lord! O my true God! Oh! How can I dare to remain in Thy Presence! The angels tremble before Thee!"
Fr. Bob Weiss, C.P. preaches Parish Missions and is a member of the Passionist Community in Louisville, Kentucky.