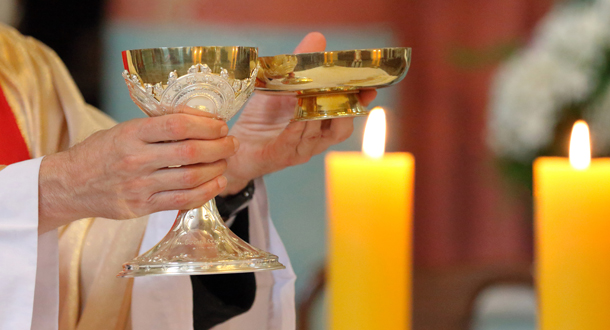 Scripture:
Reflection:
For truly, I say to you, whoever gives you a cup of water to drink  because you belong to Christ will by no means lose his reward. Mark 9:41
Years ago when I first arrived at the seminary in Normandy, Missouri, there was a beautiful statue of the Sacred Heart outside. The statue had been damaged by a storm and the hands were missing. For first three years there I thought it was sad that an otherwise beautiful image of Christ was ruined. But after some wonderful classes taught by Fr Leo Patrick Brady, CP, on the Church as the Body of Christ, I received my first deep understanding that my hands are the hands of Christ!  Through Baptism we are all members of Body of Christ. In my little world the only healing hands that touch and heal others are mine.
When we service members of Christ's Body we are indeed repairing and enabling the members of Jesus, we are all active in making Jesus present by many ministries that have high maintenance needs.  We need to make serious efforts to support the various members of Christ's Body.  Some might have to support young families raising their children in a hostile secular world.  Grandparents need confirmation encouraging their extended families to remain faithful to their Catholic traditions. Catholic teachers need support from parents.
Clerical and lay pastoral workers need affirmation in their evangelization. The many people who work so hard to support the religious orders and organizations in their spread of Gospel need our grateful appreciation.  Many people serve on liturgical committees or in the choir, who practice for hours working to raise our hearts in worship!   There are so many people giving hours of care to the sick and elderly.  Our parishes are treasure houses of the compassion of Christ!
Mark Twain said: "I can last two months on a good compliment." While we should have good hearts for all of God's children, we should especially be sensitive to the multiple of members carrying on the work of the Living Christ!

Fr. Bob Weiss, C.P. preaches Parish Missions and is a member of the Passionist Community in Louisville, Kentucky.