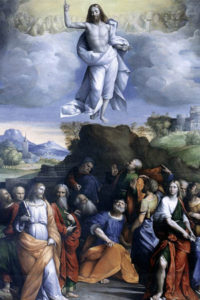 Scripture:
Acts 1:1-11
Ephesians 1:17-23
Matthew 28:16-20
Reflection:
I Am With You Always
Today we celebrate the feast of the Ascension  We remember Christ leaving only His visible presence but His being closer than ever in His faith presence! Today's feast is a paradox.  Jesus is not leaving us but coming to us.  The worse decision of our lives is to practice social distance from Christ!
The Gospel today ends with one of the most beautiful lines in the Scripture.  "Behold (idou), I am with you always, even to the end of the age."  Mt 28:20    200 times the NT begins with "look" idou  i.e. to strongly point to the special importance of the following thought.  "I am with you"  These words are found from Genesis to Revelation some 647 times.  Jesus promises He will be with us forever!  The Apache Indians say only one word for the marriage vows ceremony Var la banah which means forever.  Unlike so many today Christ takes His vows very seriously to remain with us to the end of the age.
Two observations might be considered here.  If Christ promised He will be with us, means He is very close! "For in Him we live and move and have our being" Act 17:28   Karl Rahner beautifully observes: "People have God over their shoulder, but few stop, turn around, and say Hello"!   If we would treat our friends with such a lack of notice, they would soon lose interest in us.
The second observation is Christ will never leave us.  "He Himself has said, "I will never desert you, nor will I ever forsake you,"  Heb 13:5  The word desert in the original inspired text is anhiemi. The etymology is ana, "back" and hiemi, "to send," denotes "to let go.  In modern English He will never drop you.  Many times in Scripture God assures us He will never leave us. ""He who is a hired hand, and not a shepherd, who is not the owner of the sheep, sees the wolf coming, and leaves the sheep and flees, and the wolf snatches them and scatters them. "I am the good shepherd; the good shepherd lays down His life for the sheep."  John 10

Fr. Bob Weiss, C.P. preaches Parish Missions and is a member of the Passionist Community in Louisville, Kentucky.